B3/B4 modernization progresses as construction persists on BHHS campus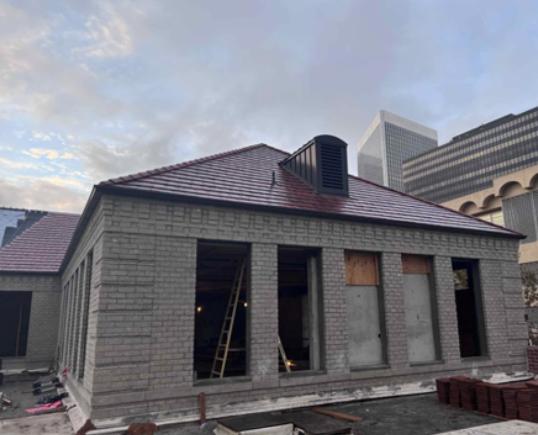 Candice Anvari co-editor-in-chief
Defne Onal managing editor
Construction on the BHHS and El Rodeo campuses is proceeding according to its timeline despite the return of students on campus. The construction has steadily expanded onto Heath Avenue as the B3 and B4 modernization progresses.
The B3 and B4 modernization is currently projected to be substantially complete by December 2024. However, the buildings won't be ready for occupancy until August 2025. B3 consists of the auditorium, two lobbies and a basement. B4 consists of the instrumental music room, the Salter Theater, the choral room, classrooms and workrooms.
According to Assistant Principal Drew Stewart, B3 and B4 are the "big projects" while other infrastructure construction is occurring underground, so people "don't necessarily see anticipation for the future."
"B4 and B3 are doing the most…currently to be the next immediately open phase, though there is lots of other work happening around campus in preparation [for] future things, like redoing electrical. We're going to be trenching underneath the Swim Gym parking lot to redo electrical for all the athletic complexes," Stewart said.
One of the goals of the B3 and B4 Modernization is to make the buildings earthquake-proof.
"In lay terms, the reconstruction of the buildings, including the auditoriums, will be accomplished in several steps. First, rebuilding the skeleton of the building. Then, adding windows and doors, refinishing the walls, using three-story scaffolding to rebuild the roof and the interior ceiling. Then, the floors will be finished and the theater seats will be installed. New restrooms will be built in the second floor lobby of B3," Superintendent Dr. Micheal Bregy said.
Click on the arrows below to view pictures from B3. Photos courtesy of BHUSD.
As for where students should walk to exit campus, administration will talk with the construction crew to determine if there is any temporary fencing that can be put up so that there is a more established walkway for students.
"We are encouraging students that are coming from the B buildings [to] go and exit Gate One, which is on Durant and Moreno, to try to make their [path] over there through the eight buildings down the STC or [through] those northern stairwells where the cars are leaving both the parking garages, because at the end of period five, six and seven, there're a lot of students walking there," Stewart said.
Stewart hopes that temporary fencing will keep students safe and limit foot traffic so that students and cars can both exit safely.
"That's my biggest concern. To keep everyone safe. If we can do that and keep the fences up so that they can continue to be able to work and get these projects done as soon as they can, I think it's ultimately amazing for the school that we can open the Salter complex the way we opened B1 and B2 last year."
Click on the arrows below to view photos from B4. Photos courtesy of BHUSD.
Stay tuned for more updates as construction progresses.