Students dive into interests at Club Rush
Club Rush starts off the school year, where students go from booth to booth to seek out different clubs to join. 
Thursday, Sept. 8, during lunch, ASB hosted the event on the 3rd floor patio for this year's clubs. Club members manned their booths while students, in attendance, wandered around to find a club that felt right for them to join.
"I think it's important to start and join clubs, because it gives you a chance to meet other students with the same interests as you," Activities Director of ASB Mr. Nick Henggeler said. "It helps to widen your social network at the school." 
For new or shy students attending this year's club rush, joining a club is a great opportunity to make friends and get to know people around the school.
"[Joining a club] helps me get involved in school activities, and I get to explore my hobbies in ways that I can't out of school." sophomore Rebecca Ben Yakov said.
Some students create clubs based on their personal interests —such as the Books with Tea Club, Drama Club and Music Club— and hope to have their peers with similar interests join. While other students such as Bao Dang, president of the UNICEF Club, start clubs for the purpose of finding students interested in helping others.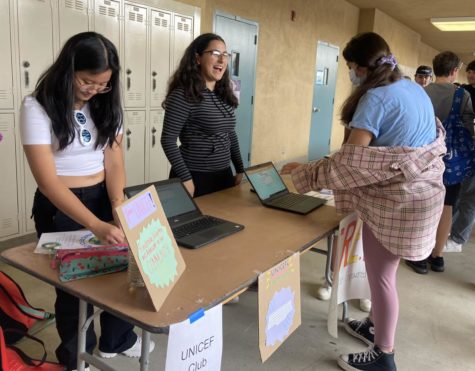 "As someone who grew up in a third world country, I have witnessed the poverty that so many people live in," Dang said. "With this club, I hope to be able to be a part of change… [it's] a way for me and others to help people."
If you didn't get to sign up for the clubs you wanted during Club Rush —there is nothing to worry about— most clubs allow students to join during the school year with no problem.