Beverly gathers together for homecoming pep rally
Prior to the Homecoming football game, ASB hosted the 2022 pep rally that took place on the field Sept. 23. Students from every grade went with their 4th period class and teachers to watch multiple performances and events in celebration of the homecoming game later that night.
The performers prepared for the pep rally with practices over time during class and after school. Some of the performers, such as the dance company, coached by Artistic Director Dana Findley, had been preparing since the beginning of the school year.
"When we started school, we started planning for our annual show," Ms. Findley said. "Then, within about a week or two from school starting, we started working on a new piece in the theme of disco for the homecoming and pep rally performances" Dance Company practiced their routine every week to ensure the members were ready and had memorized every step.
"We learn the combo and then we go over everything every week. We'll have an hour to basically just go over everything, clean it up and make sure it looks pretty," senior Abby Wolf said.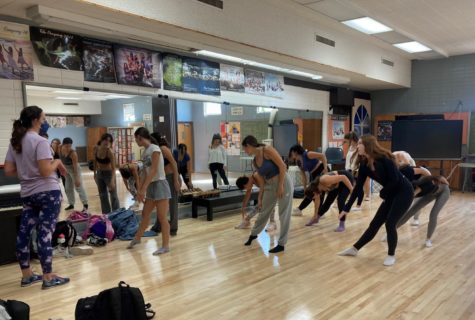 This year's Homecoming theme was "Disco,"which was incorporated into their routines. Dance Company performed songs from groups like Earth Wind & Fire and ABBA.
"We've actually had a lot of fun with [the disco theme]," Ms. Findley said. "We're using music from the '70's and we incorporated movements and dance styles from the '70's as well." 
Their performance was fun and impressive, embodying the '70's vibe perfectly.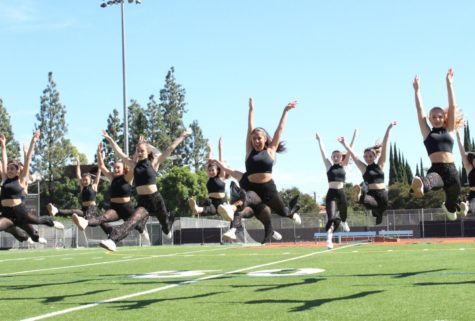 Band had a similar practice method to the Dance Company. During and after school , band was on the field, in the band room and on the basketball court preparing for the event. The halftime show/performance also changed into a new direction from the previous years due to a new band director, Mr. Justin Klotzle.
"It's more complicated than last year's halftime show," sophomore Loretta Jensen said. "There are more movements as far as field arrangements." 
Their performance was a great start to the pep rally, performing a cover of "Billie Jean" by Michael Jackson on instruments, which was followed by the cheer squad, Madrigals (choir), dance company, and various events which were played by teachers and homecoming court nominees.
"I feel like [this year's performance] went great," sophomore cheerleader Jurnee Burell-Williams said. "It was a little stressful at the beginning, but it went really well after."