Volleyball loses first match, promises new strategies for season
Juliette Deutsch staff writer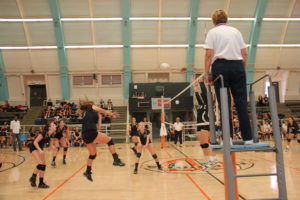 The girls varsity volleyball squad challenged Rio Hondo in a nonleague home game on Sept. 10. The match put Beverly`s recent changes in their coaching and training techniques to the test. However, Rio Hondo won the game, with the best three sets out of four.
Sophomore Sara Neiman explained some of the new coaching and training approaches that the team has for the season.
"We are improving and putting new strategies into our practice routines this year and really starting from scratch," Neiman said. "The game today really could have gone much better and we still have lots of room for improvement."
In addition to the team gradually improving their skills, players are making great progress individually and are becoming better individual players.
"We played better as individuals then as a team and once we come together through more practice we will be successful," Neiman said.
Left Hitter Liat Hackmann had a new record for herself with four aces in the first set and Setter Elsa Woods with five assists in the first set.
Overall, the team is still training and preparing for their league games which will begin Oct. 3 against Inglewood.