The effect of California storm on the homeless community
With about 172,000 homeless people living in California state, the raging storm that has hit Southern California left an indelible mark on the homeless community.
For a few weeks now, the extreme rainfall has been causing flooding in parts of California. The National Weather Service labeled this storm as "the most impressive storm since 2005."
Many homeless people around the country lead toward California for its sunny climate in hope of easier living, without having to worry about weather changes.
However, this storm is leaving homeless people vulnerable to the harsh rain, with two already dead from fallen trees.
"I've just been paying attention to the wind, wondering which tree will crack next," homeless citizen Jose Reyes said in an interview with the New York Times.
Nearly 70% of homeless people in California live outside in public areas like in makeshift tents, vehicles, etc.
Homeless shelters can't provide all the needs to the homeless at this time. Some people aren't open to leaving their belongings behind or their pets that they wouldn't dream of leaving behind, while others aren't aware of shelters near them or feel unsafe.
"The city and the county have failed to meet people—to provide emergency shelter that actually meets people's needs," Talya Husbands-Hankin said in an interview with the New York Times. She runs Love and Justice, a homeless advocacy agency.
Though there isn't much we can do to help tame the ongoing storm, there are other practical things that students in our community can do to help.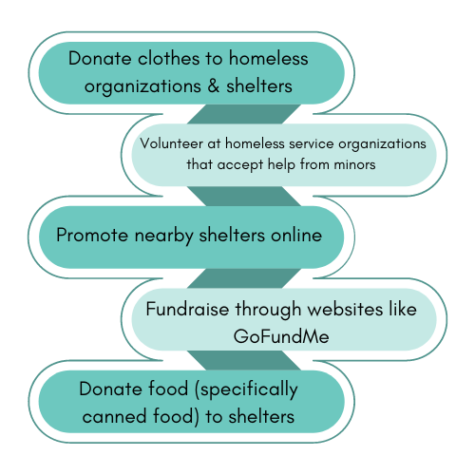 Students can still have a positive impact on the homeless community through any of these little efforts.