Seniors take trip to Albion St. Elementary
Friday, Dec. 2, the senior class took a field trip to Albion Elementary School to donate Beverly student-funded Christmas presents to the Albion students. 
In the weeks leading up to the trip, students scanned QR codes on flyers posted around campus to make donations for the school to purchase presents for "Santa" and "Mrs. Claus" (two seniors, Rodney Senehi and Negin Niksefat) to give to Albion students. With the help of teachers and the student body, Beverly raised enough money to give heartwarming gifts and still have extras leftover to donate.
The goal of visiting Albion Street was to brighten the Albion students' day; as Beverly students, we tend to have more to give than others. This trip is filled with tradition as generation after generation of Beverly students visit the elementary school. "Mrs. Claus" herself heard how beneficial this day was from her own mother, who would take the field trip as a Beverly student.
"[My mom] would tell me how it makes you really realize how special you are, like how lucky and privileged you are in life," Niksefat (Mrs. Claus) said. "It's a good eye opener to give back."
The students at Beverly are not the only ones impacted by this tradition. 
Javier Rodriguez—father of an Albion Street student—emphasized how much this giving back means to the Albion students. He himself attended Albion Elementary School as a kid and remembers how the experience was for him when Beverly students would come.
"It was the best time of the year, it was the best day," Rodriguez said. "I never missed it. Every year I knew to come [to school]. The smiles you guys brought to our faces, it was a really fun day that I always looked forward to as a kid every year."
Rodriguez mentioned his favorite part of the event "was getting to know the students that would come into our classrooms."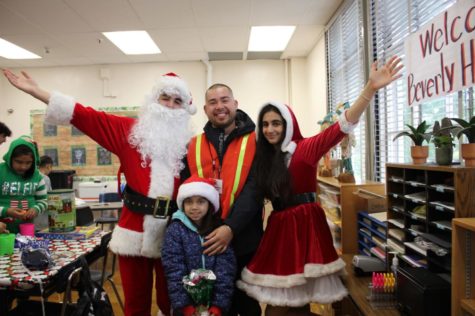 He said, "You build a connection for the day and then when they would leave, you would miss them because you built that connection. We felt really loved."
Rodriguez now volunteers as a parent to see the students share his past experiences.
"It's very nostalgic," Rodriguez said. "I get to see these kids go through what I went through, and it's super exciting. It's the same energy that you guys bring all the time, and I see the same smiles that I had when I was a kid, too."
Rodriguez especially enjoys seeing his daughter have a good time.
He said, "I see her little face, and I had the same face when I was a kid."
While this event lit up the day for the Albion students, it also put a huge smile on the Beverly students' faces. Seniors were grouped with different elementary classes for the day, letting them bond with the same kids throughout the trip. As different student groups—band, cheer, robotics, Dance Company, Madrigals choir—held different activities during the day, all students participated in loads of fun.
For example, after Dance Company would finish their performance, the members (along with the cheerleaders, band members, and additional seniors grouped with each class) would offer their hands to the kids and everybody would dance together. Energy radiated from everyone there.
"[The Albion students are] making my day," senior and member of Dance Company Ori Cohen Raab said. "I know we're supposed to be here to make them happy but I love them, they're so cute. I didn't think I would have this much fun."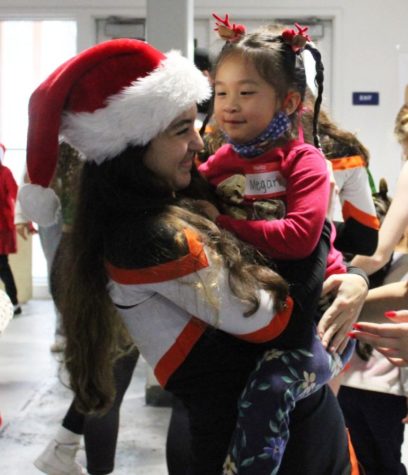 Albion Street left a bittersweet memory with everyone involved. Students hopped on the bus that morning ready to make people happy, not realizing how happy they themselves would end up being. 
"To see not just the Albion Street kids' faces, but our students' faces doing something so beautiful outside the classroom is really meaningful," Mrs. Barbara Nealis said, who greatly helped plan the event. "That's why I got into teaching a long time ago."
At the end of the trip, all the students from both schools ran out to the playground, where the Albio students had the opportunity to show the seniors how to be kids again. Everyone played hopscotch, basketball, volleyball, etc. The Robotics team topped off the day with a student v. robot race (spoiler: the students won). 
Visiting Albion St is a rite of passage for Beverly seniors and a long standing tradition we are happy to be a part of.