Harry Styles sparks controversy at 2023 Grammys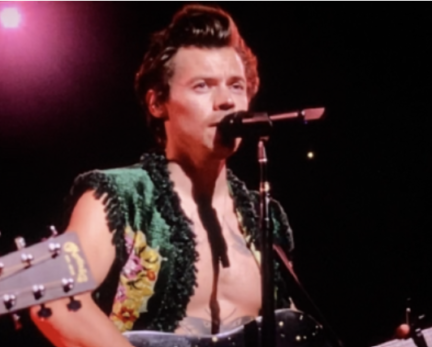 SUNDAY FEB 5 Los Angeles–Harry Styles won the Grammy award for "Album of the Year." In his acceptance speech, Styles said, "This doesn't happen to people like me very often." The public now asks themselves, does this success not happen to white British men very often?
Fans pointed out white artists have been winning awards over artists of color for decades, and this observation has driven Twitter users crazy. 
One person tweeted: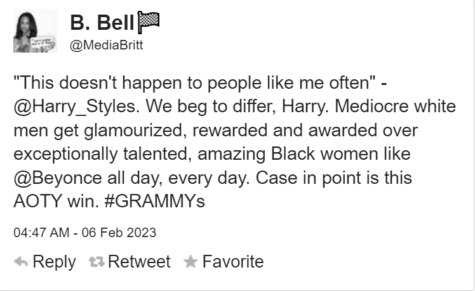 So what was Styles saying?
Junior Michaela Hassid has been a devoted Harry Styles fan for 12 years now, and she thinks she understands his perspective.
"He grew up poor," Hassid said. "He was not rich. He had no connections, no ties to the industry at all. He got famous through a literal talent show—"X Factor"—and then at the same time, he was in a boy band. People don't take people who come out of boy bands seriously."
Styles has spoken about the idea of starting a solo career after such a successful career in a band. 
"Going out on a high, and now feeling like I'm starting afresh, I came to terms with the fact that that was so great, and if I never get to do that on that level again, that's okay," Styles said in his "Harry Styles: Behind the Album" documentary. 
Taking Styles' words into perspective, Hassid commented more on where she thought Styles was coming from during his speech. 
"I think he's just acknowledging the fact that there are so many talented people in the world that don't necessarily have the success that Harry Styles has," Hassid said. "I think that's his way of basically saying, 'With the background I have, I'm just so lucky that it's me that got to this place. There are many other people who are very deserving of this place, and the fact that it's me is insane, and I'm so grateful for that.'"
Styles has talked about this very thing in an interview on "The Howard Stern Show." 
"I know there's, you know, hundreds of thousands, if not millions, of musicians who are so far superior to me as a musician," he said. "So much of it is just about luck and timing, because when I look at it, there's no reason for it to have been me who got to do this."
Fans of Styles are quick to come to his defense. They did not question his "people like me" speech, because Styles has been giving this spiel at almost every concert during his 2022-23 Love On Tour. The fans have always digested the speech in a sympathetic, sentimental way, as they seem to understand Styles on a different level than the general public.
When speaking to a global audience, many whom haven't heard him speak about his gratitude, Styles faced backlash from different perspectives than what his fans have given him. While he best communicates with his fans, he seems to have miscommunicated with the world.