Taylor Swift wins 'Best Music Video' at 2023 Grammy Awards
SUNDAY FEB 5– Showing up in midnight blue sparkles with four Grammy nominations, Taylor Swift had a blast at the 2023 Grammy Awards. According to Hollywood Reporter, this year, Swift was nominated for four awards.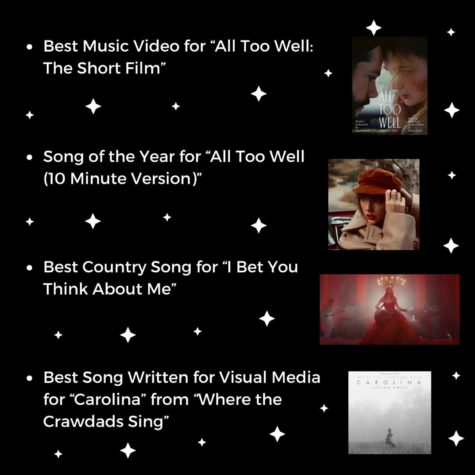 Swift won the award for Best Music Video for "All Too Well: The Short Film", which currently has over 83 million views on YouTube and tells the story of a fan classic. This awards ceremony made Swift a 12-time Grammy winner.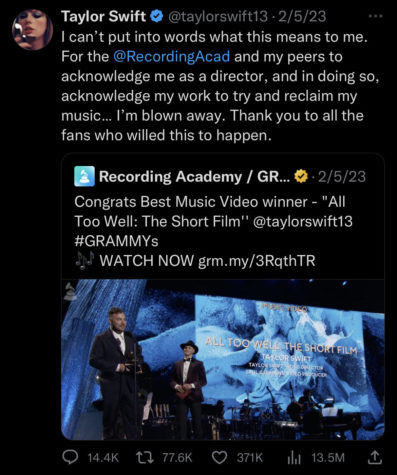 Swift showed up to the awards show wearing a bejeweled, deep blue two-piece gown. People wrote, "she tied together the ensemble with $3 million worth Lorraine Schwartz jewelry, featuring over 136 carats of natural purple sapphires, Paraibas and kite-shaped diamond earrings." 
Since fans are used to Swift leaving clues, or "Easter Eggs", that point to what she is releasing next, the purple on the earrings could indicate that "Speak Now (Taylor's Version)" is coming sooner than we thought. However, her midnight blue outfit confirms to her fans that we are still in the "Midnights" era. "Midnights" (her latest album) will be eligible for nominations at the 2024 Grammy Awards — but this year, some of her other rather recent releases were the focus. 
Besides winning a Grammy at this year's awards show, Swift also reunited with Harry Styles, whom she dated during 2012 and 2013 and wrote songs about on her pop album "1989." They were both supporting each other at the show by greeting each other with a hug and chatting for a little while — which left fans curious about what the two artists were talking about. 
What we do know is that after Styles performed his hit song, "As It Was," Swift gave him a standing ovation, and Billboard speculated that "they were all smiles throughout."
Swift also danced like no one was watching to artists performing at this year's awards show, like Bad Bunny, Lizzo, and Harry Styles. Swift was clearly having fun also celebrating being at the show, let alone winning an award.
2023 Grammys host Trevor Noah acknowledged Swift during his opening monologue, shouting her out for her accomplishments this year.
 "Taylor Swift sold more albums than any other human on the planet last year," Noah said. "The only music we listened to more than Taylor's music was the hold music for Southwest Airlines. That was it. They got the real streaming numbers."
While fans were disappointed that "I Bet You Think About Me" did not win an award, and neither did her ten-minute version of "All Too Well", they were evidently thrilled—but not surprised— that her short film won. This year's Grammys was definitely a night that fans will remember all too well.