Winter formal brings students 'A Night in Paris'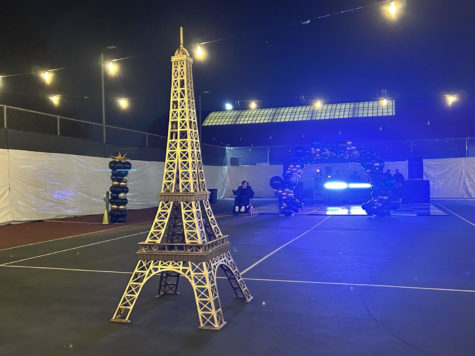 THURS FEB. 16—BHHS students experienced a night of fun at this year's winter formal, "A Night in Paris," on the tennis courts.
French culture is often associated with romance, making the Parisian theme of the evening perfect — as the dance was held just two days after Valentine's Day. The theme was delivered very well, with a big Eiffel Tower near the entrance. The dance was decorated with blue and gold balloons, bright gold string lights, and a checkered black-and-white dance floor.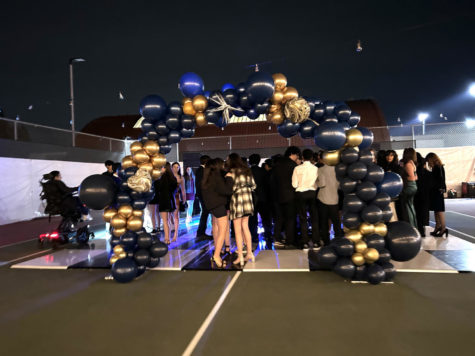 "I think [the best part of formal was] definitely the decorations, because we [ASB] spent a long time researching companies to rent from," ASB Commissioner of Dances Jillian Samadi said.
All of the activities and food selections at winter formal were designed around the Parisian theme, and students shared their thoughts on this theme of the dance.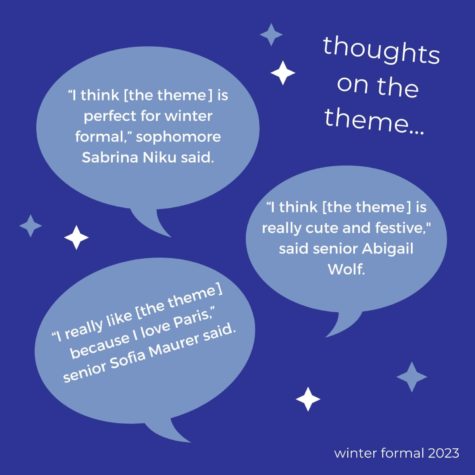 The temperature was in the low 50s when the dance took place. While that might be considered warm for a winter night in Paris, it was certainly cold for Beverly Hills.
"It seems fun, just cold," junior Erin Scholer said. 
Freshman Haley Scholer said, "I'm excited but freezing."
ASB wrote an email to everyone with the final details of the dance. In the message, they included, "Please dress warmly tonight! We will have heaters throughout the space, but it is rather chilly, so you'll be grateful if you bring a jacket." 
The cold temperature did suit the whole "winter" part of "winter formal" very well, though, and added to the theme.
ASB really went all out for this dance, with a bunch of activities that suited the theme offered to attendees.
"We did a lot of extra stuff that we normally would reserve for homecoming," Mr. Nick Henggeler said, activities director of ASB. "We stuck to the theme, so we've got a crepe station to fit with Paris."
Students played at the blackjack tables which were right near the entrance and near the dance floor, so they could enjoy the music while playing.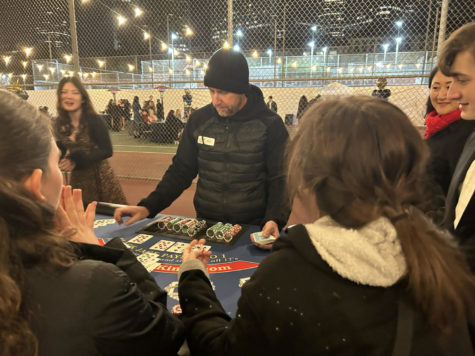 In addition to the blackjack tables, dancing, and photo booth, dinner from Il Tramezzino was available. The food was fantastic, with three selections of pasta, Caesar salad, sandwiches, and cream puffs offered. 
"I'm just loving the food," junior Camille Kaiserman said. "[I'm most looking forward to] the crepe stand, for sure."
The crepe station from LA's Crepes offered many options with various toppings to choose from. There was a huge line for the crepes going all the way across the tennis court after people ate dinner.
"I really liked [the crepe station] because I found it from a bat mitzvah that I went to," Samadi said.
Henggeler thought the crepe station would be the best part of the night. "I'm excited about the crepes," he said. "That's probably my number one."
The dance floor was upbeat and reverberating with students dancing to songs that the DJ was playing—from contemporary songs like "I Knew You Were Trouble" by Taylor Swift, to new songs like "Flowers" by Miley Cyrus. No French music was played, however, which would have added a nice touch to fit the theme.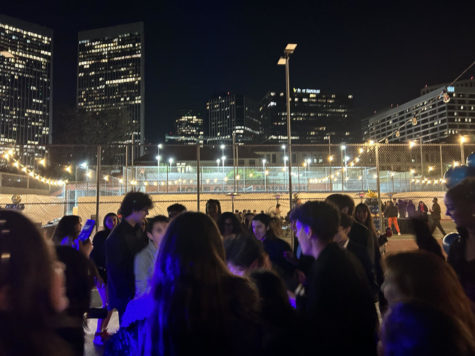 Winter formal was an especially memorable event for seniors, as it was one of their last high school dances. 
Senior Maya Rendon said, "I'm excited, it's my last dance besides prom."
Prom will be held closer to the end of the school year, but besides homecoming, winter formal was one of the few dances for those in their last year of high school to make more high school memories.
This year's winter formal was fantastic, but also different to last year's winter formal in a lot of ways. 
Wolf said, "I liked last year's [winter formal] because it was at a venue, but I like the lights here. I think they're pretty."
Thanks to the efforts of ASB, this year's winter formal was a blast. 
"ASB started planning winter formal immediately after homecoming," Henggeler said. "These last four weeks [were really] when everything came together."
Winter formal was a roaring success, despite the cold temperatures. At least here in Beverly Hills, no one had to worry that it would start snowing — although that really would have made it a "winter" formal!