Tate arrested after Twitter battle
DEC 28—Influential, self-proclaimed misogynist, former MMA fighter and podcaster Andrew Tate (36) was arrested for rape and human trafficking after a Twitter battle with activist Greta Thunberg (20).
Tate took to Twitter bragging, "I have 33 cars… Please provide your email address so I can send a complete list of my car collection and their respective enormous emissions," to Thunberg, taunting her about his impact on global warming.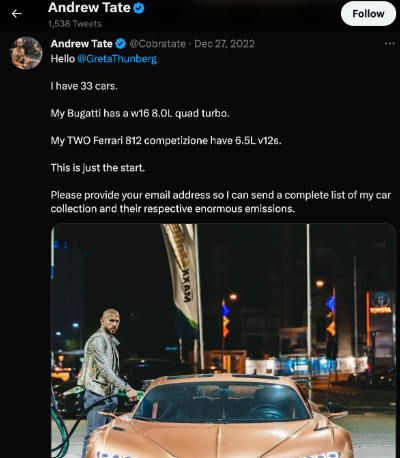 Thunberg responded with a tweet telling him to email her at "[email protected]" which sent the internet into a state of shock at her bold words. Many sided with Thunberg, but Tate supporters sided with him, saying she insulted herself.

On Dec. 28, Tate responded to the tweet with a video saying Thunberg had been brainwashed by society into believing that carbon emissions have an effect on the environment. He then got a pizza box and said to someone in the room, "Make sure these boxes are not recycled," in an effort to taunt her.
The logo on the box was from a local pizza place in Romania. This alerted local authorities to his location and arrested him—as well as his brother and two Romanian women— with the case they had been building since April 2022. The police charged Tate and company with human trafficking and rape allegations. On Dec. 30, the arrest period was moved from 24 hours to 30 days.
Tate still has supporters after these charges, some being students here.  
 "He just says things that people are afraid to say, but it doesn't really affect anyone," an anonymous student said. 
The student went on to claim Tate's charges are false, saying, "he's just not that kind of guy."
On the contrast, others at Beverly think he's "slightly toxic and misogynistic" and believe the charges against him are true. 
"[Teenagers] take the wrong points from him," another anonymous student said.  "He's degrading women [and this causes] teens nowadays to not give respect to women, as they need to."
Another 30 days were recently added to the arrest period, extending the arrest period to Feb. 27. Tate's tweets have been available to the public and these tweets revealed his location to Romanian officers. The pizza box video was the icing on the cake, as these tweets were what lead to his whereabouts. Without him being active on Twitter, he would not have been arrested for such a small mistake. 
Updates
JAN, Tate's luxury cars were

seized for $3.9 million

An

appeal

to the seizure was lost

FEB 1

Appeal

to a judge's decision on Jan 20 to keep him arrested was lost

FEB 21, Tate's arrest period extended for 30 days, for the third time

The Romanian women have been under house arrest, while the Tate brothers are still in jail

None of the four have been formally charged and Tate's lawyers say the reason for this is lack of evidence

WhatsApp

text exchanges

between Tate and a victim have recently been exposed
*The students interviewed elected to remain anonymous.