Los Angeles experienced stormy weekend, blizzard warning issued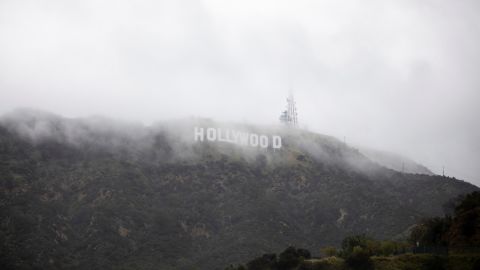 TUES FEB. 28 — If it snows in Southern California, the world must be upside down… so the world must be upended right now. Los Angeles has been experiencing an intense winter storm with not only rain and flooding, but also snow and hail.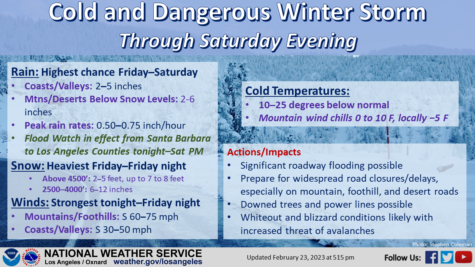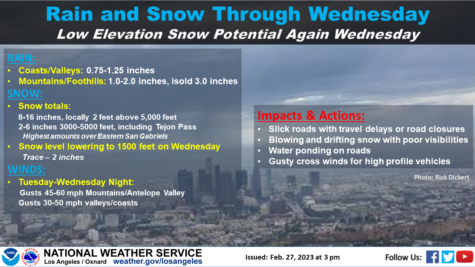 Temperatures are hitting the low 40s in daytime, which is pretty abnormal for Los Angeles. These unusually cold temperatures alone are enough to make people uncomfortable.
Sophomore Justin Greenburg— who has spent a lot of time learning about these weather conditions— said, "It's very cold, colder than it usually is; and I know that this is the first ever blizzard warning for LA County like ever. Actually, not ever. Since [1989]."
ABC7 says this is the LA region's first blizzard warning since 1989. "A powerful winter storm began moving into Southern California on Wednesday, with snow expected at unusually low levels and blizzard conditions coming to the mountains," ABC7 reported.
Due to these extreme weather conditions, the I-15 Freeway near the California-Nevada line was shut down overnight due to the weather conditions and people are preparing to "hunker down" in Big Bear because of the snow, said ABC7.
The National Weather Service forecasted that the storm could bring six feet or more of snow to Big Bear and Wrightwood, and as much as eight feet to Mount Baldy. (ABC7)
The terms "snow" and "blizzard conditions" are mostly foreign to residents of Los Angeles since they live in "sunny California," but this no longer seems to be the case.
The LA Times reported snow on the Hollywood sign and stated that some school districts have canceled classes due to slick mountain roadways and possible blizzard conditions. "Cold temperatures brought snow, hail and graupel to unusually low elevations of the Southland, including at the Hollywood sign," the LA Times says, "slicking mountain roadways and spurring some school districts to cancel classes ahead of possible blizzard conditions."
Besides the blizzard warnings, strong winds, heavy rain, flash flooding and snow have also occurred — and it's still raining.
"[The weather conditions are] very significant to the areas we live in," Greenburg said. "There was significant flash flooding in the Central California and North California areas. And in Montecito where a bunch of celebrities live, I know there was some flooding up there — Ellen [DeGeneres] filmed it for us."
The LA Times says that snow levels could drop as low as 1,500 feet in the mountains of L.A. and Ventura counties, which is the elevation of the Hollywood sign — and residents reported on Thursday afternoon that a "wintry mix had landed."
It seems like this wintry weather should be present in a place like Canada during this time of the year. Who would have thought that the golden state would suddenly turn so cold?
"I think we, as in Beverly Hills, are safe," Greenburg said. "I don't know if the people in areas prone to flash flooding are safe."