Beverly's annual French Cabaret celebrates French culture
THURS. APRIL 27— Madame Corinne Carlson and the French program hosted their annual Cabaret in the EDC courtyard patio. Students from different levels of French (ranging from French 1 to AP French) put on a variety of performances. 
The courtyard was decorated with flags, red, blue, and white lights and other French-themed decorations. Students began decorating directly after school until 6 P.M., when attendees began to arrive. 
Guests were greeted with student ushers, who wore top hats based on the French flag. Pamphlets were given out that included the acts and art that was drawn by students.
An hour before performances began at 7 P.M., guests placed bids at a silent auction to win a range of prizes—from gift cards to a box of pastries. Culinary students made French food for the event, including sweet and savory crepes.
 The French music at the event was beautiful to listen to, as Sarah Zhang (10) performed "Symphonie Espagnole" and Lauren Liu (12) performed "La Claire de Lune." Other students performed through dance, acting and ventriloquism.
For example, Willa Cross (9) performed a French ballet dance.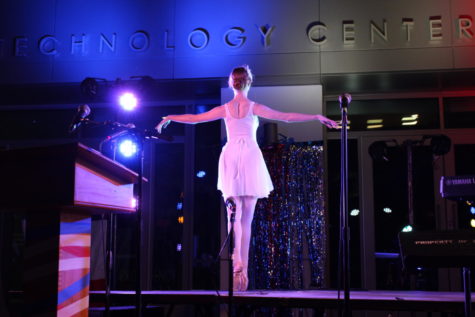 "I made my own costume," Cross said. "I'm really excited, this is my first year. I didn't go in eighth grade, which I felt bad about afterwards."
Sophomore Naomi Strauss added her own personal flair to "La Vie en Rose" by incorporating a ventriloquism act with her puppet Lucy, singing along with her. 
A key part of the Cabaret was acting out famous French scenes. A scene from "Cyrano de Bergerac" was performed by Benjamin Bakshian (10), Sarah Lea Dahan (10), and Holden Federman (11). Another scene from a famous French piece, "Le Petit Prince," was performed as well, by Aryeh Shirazi (10) and Noam Albou (10).
"I like the atmosphere," Shirazi said. "It's a great way to express French culture, especially for a lot of people who don't know French, and I think it's a great way to just perform and show the work that we've been doing."
After half of the performers took the stage, a brief intermission was held so guests and students could purchase French pastries donated by Urth Caffe.
Madame Carlson also took the time during intermission to award a few students from each of the French classes with a certificate and a small prize. Many members of the board were in attendance.
"I'm just really excited to be here," Superintendent Dr. Bregy said. "What I really love about events like this is there's so much more to language than just the written part and what you hear; it's the culture piece, and you get that all here. You get the reading, writing, speaking, and listening and performing; and everyone's in for a real treat tonight."