Willow Project explained, sparks public debates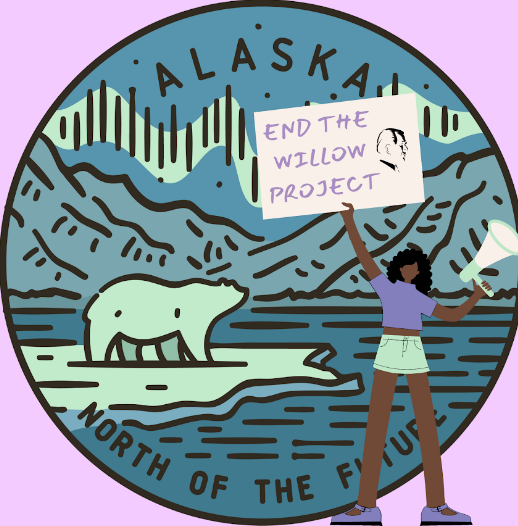 On March 13, The Biden Administration permitted one of the biggest oil developments on Alaskan soil. This development is known as the Willow Project and has been a topic of discussion for weeks. 
Willow is an oil reserve on Alaska's North Slope, controlled by ConocoPhillips, a petroleum company in Houston. This area is located in the National Petroleum Reserve-Alaska. This is the largest piece of public land in the nation.
Activists have united online to try to spread awareness on the subject and stop the project from going through. Many explain that this act completely unwinds the US's efforts to phase out fossil fuels. According to Alec Tyson, associate director of research at Pew Research Center, about 62% of young voters support phasing fossil fuels out. 
Willow costs around 8-10 billion dollars. The burning of this oil would put an estimated 239 million metric tons of carbon dioxide into the atmosphere over the 30 years it would be burned.
The public is very expressive on the topic; since the project is on federal land, federal permits are required to be passed. Biden had promised an end to oil drilling on federal land, but passing the Willow Project would go against this. This contradiction has upset people since they view it as him breaking his promises.
Others view it as a possible economic boom and would like the act to go through. The Bureau of Land Management guesses that Willow could produce around 576 million barrels of oil over the course of 30 years.
Construction has already begun to upstart the development. The administration made a decision that 499 acres would be used for Willow.
Supporters say the new oil will ensure the country has reliable, domestic energy. This is crucial so that we limit our reliance on oil suppliers. It's also estimated that Willow will make billions of dollars of economic activity and tax revenue where we need a boost to a flagging economy. It's argued that access to a surplus amount of oil can also lengthen our reliance on fossil fuels, which would increase greenhouse gas emissions and, subsequently, the effects of climate change.
As of April 3, a judge rejected a request for a preliminary injunction. This would have stopped the construction of the oil-drilling venture. Therefore, the Willow Project is set to continue.