Seniors race in "Last Luau" boat race
Five teams of seniors spent days constructing boats out of cardboard and duct tape. On Tuesday, May 23, they raced.

In complete transparency, students did not have high expectations of the teams. 
"I'm expecting them to make it like, two feet and then they all start flailing around," junior Georgia Carlson said.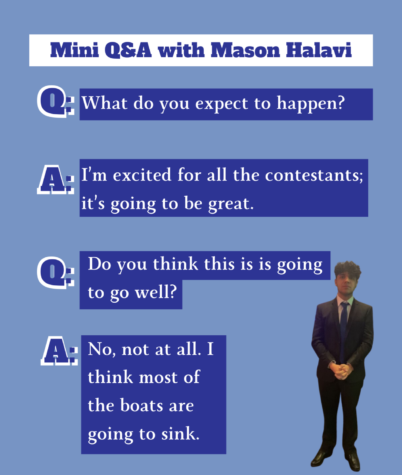 These expectations were partially correct. Team 1 did in fact win the "Titanic Award," granted for having their boat immediately collapse once senior Jacob Lindiman stepped in it.
Lindiman was still pretty pleased with how the race turned out, though.  
"I showed up and I had a blast, and that's all that matters," Lindiman said. 
However, teams 2 & 3 made their way across the entire pool. Senior Rebecca Katz tapped the other edge of the pool first, granting her team victory. 
"I thought [the boat] would last a long time, but I didn't know if I would get to the end," Katz said. "I'm feeling so relieved. We spent so long on [making the boat]."
The race overall exceeded expectations and definitely made a lasting memory. Carlson, along with likely many other juniors, is excited for the opportunity to compete next year.