Plante deejays Homecoming concert
Brenda Mehdian, staff writer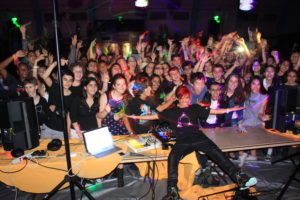 Students gathered for student DJ Cole Plante's second Homecoming concert at the Swim-Gym on Friday, Oct. 25. Although the football team was not able to clinch a victory against the Morningside Monarchs, students were still able to end the Beverly Games-themed Homecoming week with a bang.
"Even though we did not win the game, I think the concert was the best way to end the night and cheer the school up," senior Jessica Mehraban said.
After ASB maintenance covered the basketball court with silver overlay, Plante was able to get in the zone to put on the best show possible.
Following the end of the football game, students rushed onto the silver floor and Plante began playing his music. According to junior Kayla Radnia, the concert was the highlight of the night.
"A lot of other schools have Homecoming dances but instead we had a Homecoming concert. Everyone was able to come together and celebrate together," Radnia said.
According to senior ASB member Mathew Moktarzadeh, ASB prepared further in advance in advance for the concert this time around due to the positive feedback they received last year.
"Every year we strive to top the last Homecoming and try to come up with ways to make the events more enjoyable for the student body. Since we had this concert last year, we wanted  it to be even better this year so we prepped much earlier," Mokhtarzadeh said.
ASB hopes that the concert will also be able to take place next year and that they will be able to find more ways to improve the concert.