Editorial: Weak ties with security create uncertainty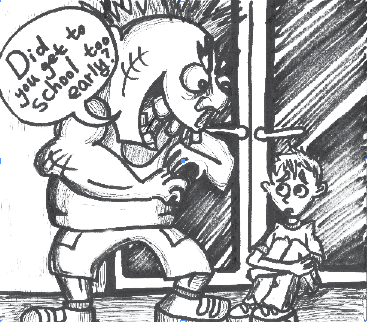 As seen in the Oct. 25 issue
Following Newtown, Conn., school security systems nationwide were reevaluated. The Beverly Hills Unified School District (BHUSD) responded in March of 2013 with official plans to strengthen security and surveillance. Yet school security still faces the threat of trespassers daily, and just last week the guards had to sequester a student concealed in large black trash bags entering campus. Assistant Principal Toni Staser later clarified this act as a case of discipline, and not trespassing, but nevertheless, it threatened student safety. Though specific goals were intended to be implemented this school year, the editorial board feels that students have only experienced the drawbacks of the restrictions without the additional safety.
A big part of strengthening school safety was encouraging students to walk within the school by decreasing use of outside pathways. Ideally, there would be fewer students wandering in the open areas like the front lawn and science floor patio when getting to class. The district planned to lock doors and eliminate openings onto campus. However, we students are oftentimes the ones locked out. Mornings are even more exasperating when dealing with the locked science building doors, which prevent many from arriving promptly to class. Whether or not this is a fault of the janitors or of school security, it poses the risk of leaving students exposed on the patio for longer periods of time. Simple measures like ensuring the doors are open on time would immediately reduce danger on campus.
The editorial board encourages the idea of a kiosk sitting atop the front lawn, as formerly proposed. A kiosk would serve as a way for security to spot threats from one focal point, equipped with 360-degree camera views and automatic communication lines. Unfortunately, though approved by the board to be constructed in the summer, Staser confirmed that no formal plans were set in place. At this point, the kiosk is an idea without follow-through, simply acting as a placeholder for actual improvement.
We understand maintaining school security is tough; after all, Beverly is famous inside and out of the city. Trespassers of all sorts — including locals, tourists and homeless people — may feel their benign motives allow them free access. The issue, however, is not lack of communication with these friendly faces, but instead, between security and students. We are trained to dislike security because we see them as figures preventing our off-campus lunch plans. We don't understand what their true contribution is to the school and often take our well-being for granted. What's to blame is the lack of visible improvements to the system and the failure to implement new safety measures. The answer to this is simply to fulfill the good ideas proposed by the board last spring, or draft new plans. We should also attempt to improve communication and understanding between security guard and student, without betraying classified information. These solutions should be among the top priorities for the school now, to avoid any regret. We should spend this current luxury of time and relative security on ensuring our safety.