Christian Club celebrates Veterans Day
Brenda Mehdian, staff writer
The Christian Club and the Associated Student Body (ASB) gave students the chance the write letters to veterans on the front lawn during lunch on the day following Veterans Day, Tuesday, Nov. 12.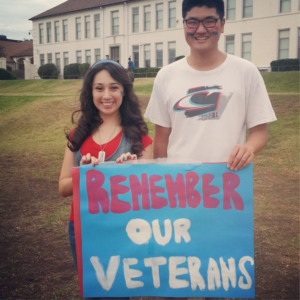 "We really wanted to be able to support all of the veterans who have served our country so valiantly," Christian Club co-founder senior Alex Lew said.
Co-founder of the Christian Club Deven Alexus Martin found out about Operation Gratitude, an organization that sends over 100,000 care packages and letters annually to U.S. Service members, and was inspired to host the event.
 "Once we were able to become supporters of the organization, we were able to set up this event up with the help of ASB," Lew said.
 Although the club began brainstorming for this even at the start of school, according to Lew, the event did not require much preparation.  After getting permission from ASB to hold the event, the Christian Club gathered the necessary supplies and was ready to get students writing.
 In addition to writing letters to the veterans, students were also able to get their face painted while listening to the Madrigals sing the national anthem in honor of the holiday.
"The event was a great way to get students involved with a holiday that is not usually as widely celebrated," senior Daniella Ashoori said.
 However, according to Lew, the club was hoping for a better turn out.
 "Not as many people wrote letters as we were expecting and because the microphone was not working we were not really able to announce anything so it was a little awkward," Lew said.
 The Christian Club hopes to generate more buzz for this event next year by making the event more prominent before it happens.