Boys basketball preps for season with high hopes
As seen in the Nov. 26 issue
Jackson Prince, staff writer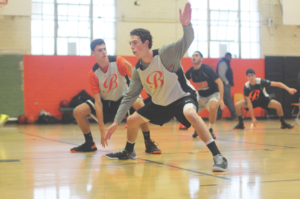 The Normans, coming off of an offseason filled with various scrimmages against top-ranked teams, will begin their season on Tuesday, Nov. 16, hosting South Torrance.
Forward Max Walder believes the team to be eager for their 2013-2014 season debut.
"We're hungry," Walder said. "We've set our goals higher than they've been in the past."
The goal, according to senior guard Ben Cohen, is "to be the league, CIF and state champions."
And the Normans are set on accomplishing this for the 2013-2014 season.
Guard Eli Sachs, having just finished his last football season at Beverly, understands that the task at hand is achievable, yet difficult.
"The mindset of the team is to be 'all in,' leaving everything out on the court," he said. "With seven seniors graduating in the spring, the time is now."
Over the summer, coach Jarvis Turner emphasized the importance of "cohesiveness on and off the court," according to junior guard Trevor Bergher.
The team was involved in many tournaments over the offseason, defeating highly-ranked teams such as Long Beach Poly, Redondo Beach and Santa Margarita. Guard Ryan Manoochehri saw further "development of chemistry" as they trained and played together.
Guard and three-point marksman Siavash Yektafar used the offseason to improve on his own game, "working on [his] mid-range pull-up jump shot, as well as [his] ball-handling and athleticism."
Cohen described himself as "being in the gym every day, getting a lot of shots up, working on his footwork and staying in shape."
The Normans kept much of their core from last year, only losing one starter, Danny Dayan, from last year's squad. The team believes that the retention of most of its varsity players from last year created a strong bond.
Bergher believes that the intensity during their games in the Swim Gym last year will be present this year as well.
"The fans should look forward to a very exciting and energetic season. As we plan to commit 100 percent of our energy to the game, we need the attendance of the fans and the noise which ensues from their presence to create an intimidating atmosphere within the Swim Gym," he said.
A season highlighted by Brandon Neman's (then a junior) buzzer-beater against Samo at home, the 2012-2013 campaign ended with a 63-44 loss to Compton High School in the CIF Southern Section Playoffs. The major difference between the past and the present, as identified by Sachs, is "maturity."
"This team is very experienced, which is going to help us grind out the tough wins we'll need to succeed," he said.
Overall, the boys are "excited to begin the season," according to Bergher. With high expectations, the Normans are set to tip-off tonight at 7 p.m.