Choi makes history, places at State, signs with UCLA
As seen in the Nov. 26 issue
Jessica Lu, spotlight editor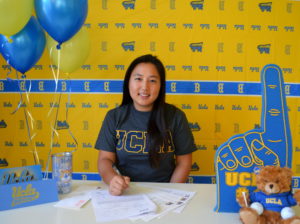 Senior Lydia Choi is the first golfer from Beverly to make State, snagging third place at the CIF Southern Section Finals in San Diego, Calif. Choi played at State on Nov. 20 and tied for 10th place.
"Making it to State made me feel accomplished," Choi said. "But [at State] I didn't play the way I wanted. None of my putts dropped."
Coach Jason Newman explained that at the eighth hole, two of Choi's shots hit the edge and lipped out, yet she was at par until the 10th hole. Choi scored 75, four under par.
Choi has played at CIF individuals for the past three years but this year marks her first time advancing to State. At the section finals, Choi shot two under par 70.
"I feel the same way that I have felt in observing her over the four years that she has been in our program," he said. "I have been tremendously impressed with her work effort, practice habits and more than anything, her courage. It takes courage to aspire to be the best."
Teammate Justin Hong felt similarly about Lydia's achievements.
"I felt happy for Lydia because she worked hard to make it and she deserved to make State," Hong said.
Some of Choi's competition in the Southern Section involved the usual players she sees at tournaments, from schools like Mira Costa, Diamond Bar, West Torrance and Torrey Pines. Though she has played these girls several times before, she believed her practice helped her stand out at the section finals.
"I spent more time putting and doing drills that helped me with short putts," she said. "Mentally, I made sure that I wouldn't get ahead of myself and play one shot at a time."
Choi is attending another tournament in Florida on Monday, Nov. 25. She expressed that she feels confident because of the lessons she has learned these past couple of weeks.
"CIF helped me understand the strengths and flaws of my golf game so I know exactly what to work out," she said.
On Wednesday, Nov. 13, Choi signed an athletic scholarship with the University of California at Los Angeles (UCLA) for golf, one that covers about 90 percent of her tuition, room and board, books, meal programs and other fees at the institution.
"I was so happy when I committed," Choi said. "UCLA is my dream school, so it was very exciting and memorable for me."
Lydia's family gathered at her home to watch her commit to the school. Choi considers UCLA to be her top choice, and so she and her family were particularly excited when she finalized the contract.
"I wanted to stay close to home because of the weather and for the ability to see my swing coach more often," Choi said.
UCLA's golf program addresses Choi's passion to continue playing the sport at a collegiate level.
"The golf program at UCLA is one of the best in the country," Choi said. "They have access to the best private golf courses around, so I know my golf game will progress at UCLA."
Though Choi is not sure what she wants to study at the university, she does have an idea of what her future pursuits look like.
"I want to try professional golf," she said. "If that doesn't work out, I want to stay in the sports business."
While aiming to excel on the golf course, she expressed that balancing sports with academics may come with a challenge.
"Student athletes definitely need time management skills," she said. "I need to work on that."
Yet she maintains an optimistic viewpoint for both golf and studies, a perspective she believes other student athletes should have as well.
"Practice [is important]," she said. "You are going to have to make many sacrifices, but at the end, all your hard work will pay off."
Choi's ultimate golf goal is to be named All-American, but she also wishes to help her team succeed in tournaments and practice as much as possible while at UCLA.