Madrigals, Fritz Coleman deck the halls at The Grove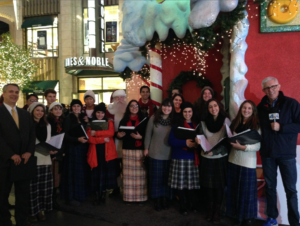 Last Friday, Dec. 6, The Madrigals caroled at The Grove during the Channel 4 local weather report with Fritz Coleman.
The Madrigals, along with Minnesingers and concert choir, will perform in the annual Winter Concert on Wednesday, Dec. 11 at 7 p.m. Choir Director Ethan Smith has planned a varied collection of holiday favorites, Beverly traditions and a special tribute song to Mr. Pressman.
Orchestras and bands will have their annual concert on Thursday, Dec. 12.