Bocchi competes in CIF Individuals semi-finals
Audrey Park, staff writer
Members of the girls varsity tennis team competed in CIF Individuals Wednesday, Nov. 25 to Thursday, Nov. 26. Sophomore Marina Bocchi and freshman Lola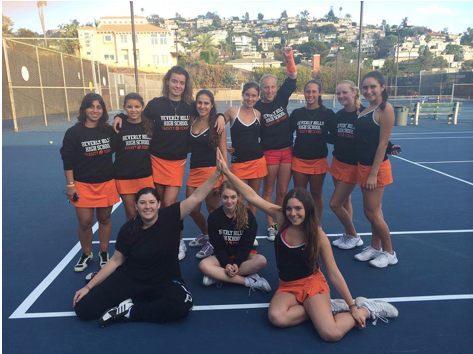 Gorbacheva competed in singles, while seniors Charlotte Frank and Miriam Binman competed in doubles.
Gorbacheva, Frank and Binman won their first matches, but lost their second. On the other hand, Bocchi made semi-finals and placed in the top 32 girls category of Southern California.
Bocchi, who was initially nervous because she didn't "have a good start," put up a close fight until the end, losing with  a score 7-5 during the first round and 6-4 during the second round.
"The match was very tough," Bocchi said. "I had to play against a senior my first round of main draw at CIF. It was a very close match."
Throughout the match, Bocchi was distracted by plays made earlier in the match.
"I was very nervous because I didn't have a good start; I was up serving 40-0 in the very first game of the first set, but then, soon after, ended up losing that game," Bocchi said. "The nerves really got to me because I should have won that game."
Although Bocchi was disappointed by her loss, she believes that the outcome of the game helped her mature as an athlete.
"I learned that when you are caught up in a situation where the score is really tight, you have to be able to stay focused and not panic because every point counts," Bocchi said.
Frank and Binman, who won their first match, lost the second one with a close score of 10-8. Frank and Binman had lost the first set of the second match, won the second set and then lost the tiebreaker.
"I'm happy that we won the first round but disappointed about our loss in the second round, we were just so close to winning," Frank said. "It symbolized my last competitive high school match, so it was bittersweet, more on the bitter side though."
Members of the team all plan to continue practice and pursue tennis in college.