Multi-sport athletes are the norm for Normans
As seen in the Dec. 16 issue
Jackson Prince, staff writer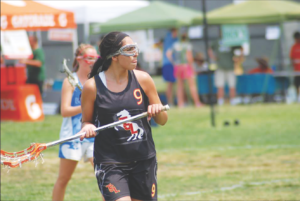 While juggling is not a sport offered at Beverly, multi-sport Normans are more than familiar with the game. Athletes at Beverly have strayed from specialization in one sport by participating in multiple sports.
Not every high school advocates playing more than one sport. Some schools, such as Serra-San Mateo and its head football coach Patrick Walsh, dislike the idea of playing more than one sport. Specializing in one sport is the mentality of some schools, as it is believed that the extra focus placed toward one sport is a better path than spreading out into many sports.
Junior Jordy Wagner believes that one should only hone in on one sport if "one wanted to take their athletic ability to the next level."
The pressure from coaches to keep their best players practicing year-round may discourage students from participating in many sports. However, this isn't the case at Beverly, according to junior Harry Green, who participates in soccer, track and football.
"I think that the school does a good job in encouraging multi-sport participation," he said. "In this same area, I think that students aren't taking advantage of the opportunities they have right in front of them."
However, there are many off-putting statistics regarding specializing in one sport by student-athletes. In April 2013, a study presented to the American Medical Society for Sports Medicine revealed that, of 1,206 one-sport athletes between the ages of 8 and 18, two-thirds were suffering from an injury, and over half of these injuries resulted from overuse.
Wagner had been a three-sport athlete, succeeding as a quarterback, wrestler and catcher, until injuries destroyed his chances of ever playing a contact sport again.
"I cracked my spine, and I was forced to quit football and wrestling," Wagner said. "I miss [football and wrestling] greatly. I had so much fun playing them."
Junior Shyra Costas, involved in softball and volleyball, sees "playing one sport like only being shown one perspective."
"You need to play different sports to work different parts of your coordination, your mind and your physical abilities," she said.
For athletes like sophomore Nicole Yuan, who played softball, soccer and tennis in middle school, and still plays all three, multi-sport participation has been a part of their entire lives.
For others, such as freshman cross-country runner and soccer player Alex Glass, a second sport is acquired upon entering high school.
"I chose to additionally run cross-country because it was good conditioning for soccer, to which I am very dedicated," Glass said.
The transitions from season to season are difficult for some athletes, both for physical and social reasons.
Green explained that the vast differences between two of his sports makes for a tough shift.
"The transition from football to soccer is particularly difficult because I have to be more agile and precise in soccer, whereas football is a lot more about explosiveness and sheer brute play," he said.
Yuan found that the "transition of the people on the teams" is more difficult than "the transition between the actual sports."
"I always fall in love with the sport and the team I am currently involved with, so when the season is over, it's hard to pick up and leave," she said.
At the end of the day, Beverly's multi-sport athletes are simply playing "for the love of the games," according to Wagner.
Some Normans, including Costas, struggle to pick their favorite sport.
"Asking 'what is my favorite sport is' is like picking a favorite child…I may be better at one sport than I am at the others, but that doesn't mean that I prefer one over the rest," she said.
Costas, like some Beverly athletes, couldn't imagine dropping one of her sports.
"I'm not sure what I would do without my sports," she said.