Beverly Model United Nations wins at LAIMUN conference
Arman Zadeh, sports editor
Riding a wave of freshman and sophomore additions, Model United Nations has so far been successful in its 2013 season, most recently at the LAIMUN Conference at Mira Costa High School on Dec. 9. Of the 10 students who participated in the conference, seven won awards for their committee, the largest Beverly win in one conference in recent history.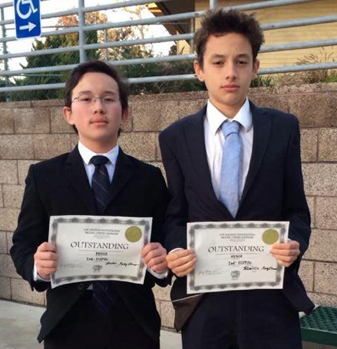 Model UN President Justin Kim was "ecstatic" about the team's milestone, especially after leading the club through a "curriculum overhaul" following the flux of new members.
"There has been a significant number of underclassmen joining the club which has prompted a MUN curriculum overhaul that would prepare beginning members," Kim said. "Even so, Beverly has had considerable success considering we have placed in the top three of our respective committees in nearly every conference."
Kim now sets his sights on preparing for the club's future competitions, including February's own Beverly MUN Conference.
"Advanced chair members will oversee the committee that they design," Kim said. "I like to prepare students by suggesting they read up on the topic synopsis of their competition beforehand."
MUN advisor Malia Frutschy, who has looked over MUN for about five years, believes that the rise of youngblood in this year's squad has not negatively impacted the leadership in the group as they prepare to host Beverly's MUN Conference.
"Our seniors and juniors have been doing this for a while, they're still strong and they're bringing the younger kids along," Frutschy said.
Kim looks forward to the discipline and determination of new club members and how it will translate in their future conferences.
"Last year I placed second at the advanced UCI conference and a few other delegates placed high in other conferences, but there is a more lively pace that is currently driving the club due to a select number of veterans and a larger number of students willing to put in work," Kim said. "There's definitely a lot more potential this year than previous years."