Amanda Christovich, cub writer
Boys varsity basketball Head Coach Jarvis Turner said that his players thrive when a gym "is packed."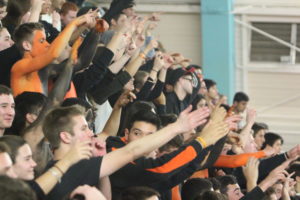 On Jan. 22, there were no empty seats in the Swim Gym. The bleachers became a sea of black. Clad in either black clothes or black body paint, students of all grade levels united together as one loud, intimidating voice that roared against the miniscule group of Samo fans who sat on the opposite side of the gym. The atmosphere had all the qualities of a war zone. Adrenaline coursed through the veins of not only the players, but also the crowd, which remained standing the entire two hour game.
This was, of course, expected. After all, Samo is Beverly's arch nemesis in the Ocean League. Emotions tend to electrify the air during any event against Samo, and the varsity boys and girls basketball games this year were no different.
After attending the game, Ed Gonzalez (@LASportsJournal), editor of the LA Sports Journal, tweeted "Beverly by far has the loudest student sections on the Westside."
Los Angeles Times reporter Eric Sondheimer commented on Beverly's spirit in a short article that accompanied a video of the crowd.
The Beverly-Samo game epitomized how the atmosphere often becomes another player. 2014 Superbowl champions, the Seattle Seahawks, are known for having a "12th man" on their team in addition to the 11 already on the field: their home crowd. The fans are a paramount part of any sporting event. At Beverly, students feel an obligation to support their team.
"The crowd greatly influences the game. If you know people are there to support you, you want to play better because you want to share [the win] with your school," junior Chloe Barroukh said.
Story continues below advertisement
Barroukh is right. The players agree that they feed off the energy that the crowd supplies them with.
"We love when the crowd tries to get involved," JV forward/guard Benj Lester said. "Even if it's an away game, and even if the crowd is against us, we love it."
 Beverly crowds usually consist of a slew of the athletes' friends and family members. When players glance at the bleachers, they almost always find familiar faces. A crucial motivational factor for Beverly players is not just the quantity of those in attendance, but also who is attendance.
"We want to perform better for our peers and friends," varsity forward Max Walder said. "When there's a nice crowd going, that always gets us more energetic."
That Wednesday, the crowd got loud against Samo. Chants of "you can't do that" after fouls committed by Samo, "defense," "MVP" (for guard Trevor Bergher) and "scoreboard" (as Beverly ran away with the lead), as well as some unsavory vocabulary, reverberated throughout the gym. The crowd attempted to directly influence the game by waving their hands, screaming, clapping and shouting players' names as they lined up for free throws. The crowd utilized every conceivable distraction tactic that didn't involve going onto the court.
"If you're at an away game and the other team is yelling at you and making noise and calling you names, you hear it," Walder said. "It's just how well you tune it out. Every person is different."
Cruel taunts, name-calling and vulgar language are commonplace during any game between two fierce rivals. Emotions escalate so quickly that, sometimes, a motivational crowd can get carried away.
Though he agreed that his players succeed "[when] all their peers and friends are in the stands," Turner remarked that he does not find vulgar language appropriate for the crowd at Beverly.
"I really don't like to be represented like that when we're at home," he said.
Players use the insults that pour out of the stands as motivation. However, it is imperative to remain serene and focused in order to get the "W".
Though he agreed that it is difficult to stay calm during certain games, Lester said that "it's important to keep your emotions calm and let your game speak for itself."
Varsity center Natasha Allen stated that she steps onto the court with acute concentration, no matter what the atmosphere.
"When I step onto the court, I am very focused," Allen said.
While anyone can look up stats and scores after the game, only a crowd's energy can document the intangible emotions. On Feb. 7, Beverly will play Samo for the second time this season; boys' and girls' JV and varsity will play at Samo.
Junior Ariel Mendelsohn observed that "people don't really go to away games." This year, the rabid Beverly crowd is trying to change that. Students are gearing up to overtake Samo's gym, and the players greatly appreciate the passion that Beverly students bring to their games.
"If we could get that intensity we had for the Samo game every game I think that would really help our chances of winning a CIF championship," Walder said. "And we expect to win."
UPDATE: The ASB rooter bus has been canceled.