Eva Levin Copy Editor
I'm confused. Yeah, that's it. Confused. Befuddled. Disoriented. Muddled. After all, it's not every day you see something so weird and abnormal you start to question an everyday pillar of your life.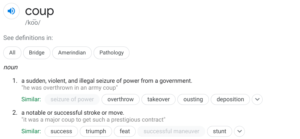 Thousands of Trump supporters invaded the Capitol building Wednesday following a galvanizing and inflammatory speech by President Trump and his allies. These domestic terrorists (NOT protesters – terrorists) broke windows, assaulted and killed police officers, wrote threatening notes to members of Congress, posed for selfies on the Senate floor, and posted Trump flags on the wall of this nation's most sacred temple to democracy. Five are dead. 
I'm struggling to find words to write about exactly what is going through my head, which is strange for me because I almost always know what to say. So I guess I'll just start from the beginning. Forgive me if this seems like a stream-of-consciousness abstract poem.


The poll aggregator FiveThirtyEight was a loyal friend of mine throughout the general election, and through this Georgia runoff as well. I routinely checked the website for new results or analysis. Around 10 a.m., they began to report on one of Trump's speeches. Nothing unusual, but he did curse, which I thought was very, very, strange. Only later would I truly see
speech's effects. I continued reading updates, which told me that supporters were marching toward the Capitol as part of the Trump-planned-and-endorsed "Save America March." Again, a little weird, but nothing super out of the blue, as the march had been planned for weeks. 
Gradually, as more and more updates appeared at the top of my laptop screen, the Georgia runoff faded from view and the situation in Washington became the main focus. The headline on the FiveThirtyEight page even changed to "Updates on Washington and Georgia." A Senate race crucial to the future of this country slowly faded away from my consciousness. 
At about 11 a.m., articles started flowing in, one right after another. Rioters broke through barricades. Congress members along with the vice president evacuated through tunnels. Rioters were on the first floor of the Capitol building. I watched the events unfold all throughout fourth period. It's kind of hard to learn a new formula in AP Statistics when one of the most symbolic buildings in the nation is desecrated in real-time.
I also watched everyone's reactions in real-time. I scanned Twitter, an app I usually have no use for, waiting for the president to say something. Surely, everyone knows this was his doing. Surely, everyone can agree that his speech (and his four years in office) gave free reign to all of these extremists to pursue violence as a means of action. Surely, the president knows this is not the way to challenge an election (even if it is an election he resoulety lost). Surely, the president will call his base off. After all, isn't he Mr. Law and Order?
We got two tweets.
Two.
This is a man who has devoted more characters to tell Robert Pattinson not to take Kristen Stewart back.
Both were unenthusiastic pleas to "respect Capitol police" and remain peaceful. The Office of the President-Elect was more on top of things, condemning these acts of sedition and challenging the president to go on national TV and make a statement via Twitter. 




Trump's statement, much like his tweets, lacked conviction. He kinda-sorta-maybe told them to go home and stay peaceful. The bone-chilling cherry on top was his closing statements to his supporters (who were currently looting the Capitol building): "We love you. You're special."

Frankly, it was repulsive. It hearkened back to the first presidential debate of chaos, where the President directed the Proud Boys to "stand back and stand by." How could anyone who claims to love this country love the people mounting an insurrection against it? To be clear, Mr. Trump, this was an attack on the nation in defense of you. They attacked the entire nation to keep you in office. 
This is on you.
America's first unpeaceful transfer of power is on you.
If this article can even get more dark, I'm about to get a whole lot darker. The irony was
unfortunately not lost on me when I saw countless rioters waving "Blue Lives Matter" flags while trampling the Capitol police. Blue Lives Matter, a movement formed in response to the negative police coverage surrounding Black Lives Matter protests, is supposed to herald and revere the police as the ultimate law of the land.



If so, how is it logical for Blue Lives Matter supporters to assault, ignore, berate and even kill the police? It appears to seem these police advocates only support cops when the cops push back on minorities begging for justice and equity. Which brings the question of the Black Lives Matter movement into play. Why were the armed National Guard, rounds upon rounds of rubber bullets, and police swaddled in riot gear present in numbers during Black Lives Matter protests in D.C., but virtually nowhere to be seen as Trump rioters attempted a coup? If a peaceful protest in June is classified as a "riot," then what we witnessed in the Capitol is an act of treason. People of Color marched for human decency and were met with nightsticks and tear gas. White people rioted for an election Trump lost and were met with hand-holding police escorts and selfies. The pattern is clear. There are two different standards, two different rule books and two different Americas.     




I love the Capitol building, with it's beautiful Rotunda and mesmerizing portraits. I remember the chill I got walking by an office with a wooden plaque that read "Speaker of the House." Watching these terrorists casually breeze through these same rooms where I have stood in awe broke something inside of me. I saw a man walk through the halls of our nation's Capitol, brandishing the Confederate flag, a universal symbol of hatred and intolerance. Seeing corrupt people corrupt a sacred place is simply gut-wrenching. I cannot fathom what it must be like for those members of Congress to return to their offices and meeting rooms, knowing an act of treason was committed in the very chair they sat in.
I don't know where to go from here. A few minutes ago, Vice President Pence confirmed the election results, over 10 hours past schedule. Two more pipe bombs were found near the Republican National Convention and Democratic National Convention offices. D.C. insiders say Cabinet members and lawmakers are floating around the idea of invoking the 25th Amendment. This fever incited by the Trump administration is not leaving on Jan. 20, despite him just acknowledging for the first time he will have to leave office. If anything, the hatred and division sewn into this country will continue to weave back and forth, creating a damaged quilt of inequality and a "me versus the world" mentality.
Trump supporters, I understand not all of you subscribe to these extremist ideals and not all of you encourage this nonsensical violence. However, please consider that this is the company you keep. This is the company that the man you voted for encourages so much —he didn't even call the National Guard on them. 
I wish I could offer you hope. I hate to end on such a dreary note. After all, the Democrats have gained control of the Senate. Even with that bonus, it will take years, if not decades, to untangle the quilt and restore America to its days of decency, when someone can look on the Capitol building with pride, and not with fear. I don't want to say this was a reckoning for America, because it wasn't. Countless issues, conflicts and tweets have led up to this. This is not a reckoning. This is only the beginning.
Story continues below advertisement