Culinary arts shows chops at Skills USA competition
Robert Katz, web editor-in-chief
Eight culinary arts students were grilled on their cooking and professional skills in the Skills USA culinary arts competition, which took place over the first week of February at Southeast ROP in Norwalk, CA.
Among 35 students sent from three schools, Beverly's entrants competed in their application of skills, as well as their ability to represent themselves in the job market.
On the cooking side, students were given a limited amount of time to each cut carrots, potatoes and herbs, debone and prepare a chicken, make a pan sauce and fry the potatoes. In addition, they were required to mind their sanitation and arrange the meal attractively.
Although participant Evan Carl felt that he "did fine," he witnessed a fair share of injuries in the kitchen.
"I burned my hand really badly, though it's fine now," Carl said. "I saw other people from the other schools cut their hands. It was pretty intense."
Culinary arts student Victoria Unzon appeared to find the experience much more pleasant.
"It was really fun and I was in my zone," Unzon said. "It felt comfortable."
Although Unzon had never made a pan sauce before, she was happy with her final product.
"I really enjoyed making it," Unzon said. "There were a lot of different flavors and it was nice."
Chef Rick Leece was pleased with his students' culinary prowess, as well as their improvised leadership skills.
"I think we did really well," Leece said. "While I was there watching it, I thought that the students here were a step ahead of most the other students in the other schools, because they're actually giving them tips on what they should and shouldn't do during the competition."
Leece noted his high standards in the classroom, which appeared to pay off.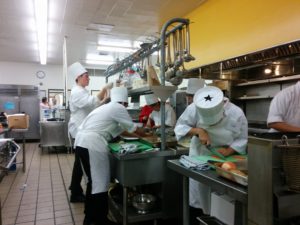 "Practicing in class, I judged [my students] hard because I knew the judges would judge them equally as hard. If not, [my students] would be a step ahead," Leece said. "There weren't any mishaps, so no bad news is good news."
Carl agreed with Leece on the value of his critiques.
"It really helped that Chef judged us so harshly," Carl said.
For the job demonstration, participants presented organized resumes and maintained a professional appearance. As well, students prepared dishes to present, with Carl making chicken salad, Joel Gabai making guacamole, and Unzon making Vietnamese spring rolls.
Although Leece was not able to sit in on the job demonstrations and interviews, he was certain "[the participants] were prepared and did well."
Leece, currently in his first year teaching at Beverly, believes that his students can reach the state competition, where they will be judged alongside college students.
"I think they'll do really well, because they're focused," Leece said. "I expect a couple of students to possibly make it past state to national."
When the results of the local competition are made available on Friday, Feb. 14, this story will be updated accordingly.