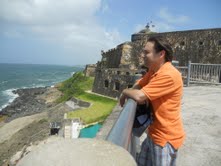 Staying in many different states offers many opportunities and ideas. This is what happened to chemistry teacher, Christopher Bushee. Bushee was born in Cleveland, but moved to San Francisco for three years.  After that, the Bushees moved to Erlanger, KT, where his parents raised him and his younger brother. He said that he had a good childhood.
"Kentucky is a great place to raise a family," Bushee said.
After graduating high school at seventeen years old, he lived in Stockholm, Sweden as a foreign exchange student for a year.
"It opened my eyes up at a very young age to the variety of cultures in the world and the pleasure of traveling the world," Bushee said.
When he returned to the United States, he attended college as an undergraduate student at the University of Illinois in Urbana-Champaign and earned his Bachelor of Science degree in Biochemistry after three years of study.
Then Bushee moved to Minneapolis and began graduate school in a Ph.D. Biochemistry program. He was, however, unsatisfied with his work.
"It was not the route I wanted to take," Bushee said.
After this realization, he moved to Chicago and began working at a hospital while attending night school at the Chicago campus of the University of Illinois. It was there that he earned his Masters degree in Education after another three years of study.
In 1994, he began his teaching career at a magnet school in Chicago.  After three years, he moved to Los Angeles where he began teaching at Beverly Hills High. In 1998, he spent the summer in Cuernavaca, Mexico learning how to speak Spanish at a bilingual school. It was there that he met his future wife, Claudia.
"It was during this summer that my life changed forever and in a spectacular way when I met my wife Claudia at a party in Cuernavaca.  We dated all summer and I fell in love with both Claudia and her two children Diego and Daniela…" Bushee said.
Soon after, Claudia, Diego, and Daniela immigrated to the United States to begin a new life with Bushee. He and Claudia married in the summer of 1999 and have been happily married since then.


Story continues below advertisement