Brown returns to Beverly as House B Assistant Principal
Ben Shofet, staff writer 
Former Beverly freshman and varsity basketball coach returns as an assistant principal after working at Kentucky Wesleyan, the Ivory Coast and Inglewood Unified School District (IUSD) for 17 years as a coach, teacher, principal and dean. Kevin Brown is now the House B assistant principal, after working in IUSD administration for six years.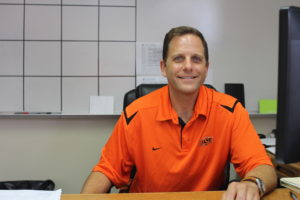 "When I found out there was an opening here, I knew that after these experiences I had at Inglewood High School as the principal and assistant principal I wanted to be a part of a national championship team," Brown said.
Brown began coaching basketball for Beverly's freshman team in 1997. In 1998, he left Beverly to coach at Kentucky Wesleyan College, as well as the Ivory Coast National basketball team for more than 12 years.
After Brown finished coaching basketball, he entered the world of education at Kentucky Wesleyan and later at IUSD. Brown worked at Inglewood for six years as a teacher, assistant principal, principal and dean.
"Being the principal of a high school has given me the experience, the skill set, knowledge. When you put all of these experiences [together] you learn leadership skills and organizational skills, you learn how to bring the best out of each other," Brown said.
Brown believes that  he can motivate students in academics, athletics and extracurriculars.
"I believe that I can be someone to motivate and inspire each person whether you're faculty, staff or student, that's the level that we are going to achieve," Brown said. "I always bring up four characteristics that I would like to continue to instill, that we do a good job of already; work ethic, the enthusiasm for being a member of Beverly Hills High School, gratitude [and] resiliency."
Brown plans to stay as an assistant principal for the rest of his academic career to help the students, as well as the faculty, work together to create a nurturing environment.
"I feel that this is the best fit for me. I want to be at a high school, it's the level I want to work with. The people and the community of Beverly Hills I feel is the best fit for me, it's my niche. I'm happy to be back here," Brown said.