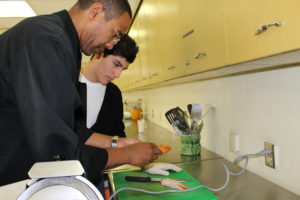 Jessica Saadian, Cub Writer 
Many students believe that teachers have a boring life and do not do anything except assigning homework and grading papers. Little do they know that teachers actually have an interesting life.
Chef Derrick Spears worked his way up the ladder to get to where he is now. He is from Detroit, Michigan, and came from a poor background. Spears went from washing dishes in a restaurant to becoming a chef instructor.
"When I was 14 years old, I wanted to earn my own money, so I looked for a job. I ended up working at a butcher shop illegally because I was not allowed to work at such a young age. At first, I just took the trash and swept the floors, but eventually I worked my way up to start butchering fish and meat and that is how I got my interest in being a chef," Spears explained.
After Spears received his first chef job at the age of 18, his boss recommended him to go to the Culinary Institute because all of the employees had gone there except him. His boss gave him a reference letter and Spears attended the institute in Hyde Park, NY after he graduated from Wayne State University.
"It took me a while to get to where I am today. I started off washing dishes when I was 16 and after a long time of working hard, I owned my own restaurant at the age of 21," Spears said.
He became a successful chef soon after graduation. Spears has an exceptional ability to manage food and labor costs, train, motivate, and lead his staff.
Spears moved to California in 2005 because he obtained a job offer at a private club at Cal Tech. After working there for two years, he worked as the executive chef of CBS studios for another two years and then the Sofitel hotel for a year.
"When I was working at Sofitel, I started subbing classes at Beverly for three years, but the principal wanted me to have full time hours, so I quit my job at Sofitel. This is my first year of having my own class and being in charge of my own food," Spears said.
Spears went through a lot to where he is today and has made many accomplishments. He looks forward to continue working at school and instructing his students.


Story continues below advertisement