Ben Shofet, staff writer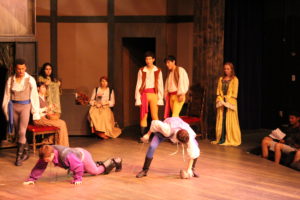 The new director of the theater department, Dr. Brad Vincent is putting on a tribute performance of Romeo and Juliet for the first time since John Ingle's performance of the same play. Ingle was a well respected theatre teacher for 21 years at Beverly. Ingle's five daughters will be present during the performance as honorary guests.
Romeo and Juliet will be one of the theatrical performances Vincent plans to run this year. The performance of Romeo and Juliet makes a total of three performances that the theatre department will host this year.
The two free previews of the play will be on Sept. 17 and 18 at 7:30pm in the Salter Family Theatre. The paid performances will be on Sept. 19 and 20 at 7:30pm. Tickets will be priced at $5 with an ASB card, $10 without an ASB card, $15 for adults and $20 for VIP seating.
Story continues below advertisement