Beverly's modern makeover
Karen Shilyan, staff writer
Students are going to experience a 21st century renovation with new plans for construction to the campus in the next couple of years. The changes are inspired by a welcoming, pedestrian oriented atmosphere to give students a more flexible learning experience. It will respect the beloved past by maintaining the original 1928 building structure while revamping the academic and athletic facilities.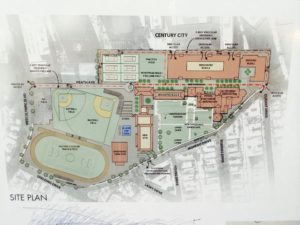 Beverly is not new to construction and advancements as the introduction of the science building came just under a decade ago. Architectural design firm, the DLR Group, will be the driving force in bringing the plans to life.
The DLR Group is providing master planning, architecture and interior design services, according to the DLR group website.
"The goal for the high school's modernization is to create flexible spaces to accommodate the newest technology," Dr. Tedford said. "We are looking to create an environment where students can connect with teachers online. Taking assessments online, interactive learning online, and more."
Some changes that students can expect include Heath Avenue replaced with a pedestrian plaza with Norman Walk at the center of the new campus, a new front door and access to public use facilities for after-hour events.
"Some of the new facilities will include a new gym and pool – fantastic of sports. The academic building will have more modern classrooms, built with the best and newest technology," Dr. Tedford said.
In addition to renovations, the DLR Group plans to create new facilities. New underground parking facilities will [be] used to support a pedestrian-focused campus. The facility program includes three theaters, a TV studio, a robotics lab, an art gallery and welcome center, a planetarium, new gymnasiums, athletic fields and an Olympic-size aquatics facility, according to the DLR Group website.
The DLR Group will be looking to minimize the affects of construction for students.
"The construction will be finished in about 2 years, which is a fairly short time for construction," Dr. Tedford said. "There will be some impact in terms of having construction going on, on campus, but we know that the result will be beneficial to all students and staff."
Ever since these changes were approved, the DLR Group has released a video which can be seen here. The video is a comprehensive layout of the blueprints for construction at a visual perspective.
Students can expect to see Beverly evolve in the coming years; with more advancements, and innovative developments.
Dr. Jen Tedford did not respond in time for publication on Sept. 19. Quotes were added on Sept. 22. DLR Group could not be reached for comment.