Idyllwild epitomizes importance of tradition
Amanda Christovich, staff writer
Christmas carols in October are a strange idea to most. But to the Madrigal Singers, "Frosty the Snowman" and "Jingle Bells" annually accompany the arrival of the autumn air.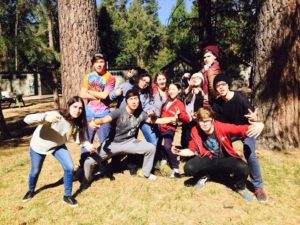 During our yearly retreat to Idyllwild Pines, we spend countless hours rehearsing music for our holiday repertoire. Our rehearsals take place in a practice room formerly graced by several generations of Madrigals, who all drank as much throat-coat tea and ate as many Oreos during their time in Idyllwild as we do. We sing morning, afternoon and night. Buffet-style meals where we pile heaps of eggs, sausages and "they-called-it-beef-stroganoff-but-I'm-not-quite-sure" more closely resemble mining camp cafeterias than those of prestigious choirs. Each evening, we reserve time to play group games, perform skits (or, more accurately, choir roasts) and even engage in rap-battles around a traditional campfire. We sing, we eat and we bond. Idyllwild is a quintessential part of the Madrigals experience, where we learn more Christmas music than most people have forgotten, we all gain about five pounds and we become a family.
Idyllwild is a tradition — a seemingly-underappreciated concept in our generation. After all, we Millennials are less affiliated with traditional institutions, such as religion, than ever before. But regardless of general allegiances to traditional institutions, rituals ranging from Friday night Shabbat dinner to a weekend in Idyllwild still punctuate our lives. Traditions are just as important to our generation as they are to our parents and grandparents, not only because of the connections traditions provide us to our histories, but also because of the value of the experiences themselves.
According to soprano section leader Allie Finer, "being part of the [Idyllwild] tradition for decades makes [one] feel like there's a real sense of community and family."
We build this sense of community and acceptance through making tangible connections with other members of our group, often members of years' past. We may not be able to harmonize with these graduated Madrigals, but we can share a connection with them through the activities, songs and rituals annually performed before us. And through these traditions, we accept each new Madrigal into our history and our family. The ties that Idyllwild cultivates are paramount for the Madrigals, because the strength of our bonds is rooted in our many shared experiences.
Most traditions are repeated because they hold value. Friday night Shabbats and the trips to Grandma's, for example, enrich family relationships. Similarly, it's no accident that Madrigals travels to Idyllwild every year; no other activity allows for more rehearsal time and forges more friendship than Idyllwild does.  Each year, our group boards the bus to Idyllwild as a group of friendly comrades. And, each year, we leave as a 29 brothers and sisters. Idyllwild brings students closer together than most could ever imagine. Through the singing, team-building and bunk-bonding, we learn everything from each other's favorite foods and subjects to family histories and deep insecurities.
We love our annual rituals not only because they welcome us, but also because they are meaningful experiences. We make them traditions so that generations after us can experience those same questionable meat dishes, friendships and experiences, because we know that time cannot alter the importance of experiences like Idyllwild.