Upcoming election brings attention to lack of student participation in politics
Amanda Christovich, staff writer
Eleanor Bogart-Stuart, staff writer
Today, Nov. 4, many eligible voters of Beverly Hills and beyond will sport their patriotic "I Voted!" stickers after participating in the 2014 election. However, many young voters will choose not to make themselves heard in this election.
Students are currently the most underrepresented voting population. According to Civic Youth,  only 45 percent of people aged 18-29 voted in 2012, while 51 percent voted in 2008. Students close to voting age are simply not as involved in politics as the older generation is.
"I don't know that much [about the election] and it isn't completely important to me because it's not my time to vote yet," sophomore Grace Delee said.
Some Beverly students believe in the importance of following political elections because they believe that voting can directly impact the lives of citizens of all ages.
"Student participation in voting is important because it provides the opportunity to voice one's position on matters that impact their lives and society," sophomore Nicole Mashoudy said.
Senior Jack Stone explained that if students  wish to fix these issues, they must begin by voting for candidates and propositions that support the causes that affect younger generations.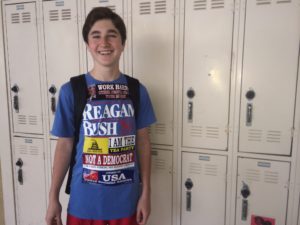 "The reason that college tuition is rising rapidly, jobs for the young are tough to find, and entitlements for the elderly rise is that students don't vote," Stone said. "If we voted and organized ourselves, we could solve problems that [our generation] is facing now."
In an effort to ameliorate the small student-voter turnout, Pincu emphasizes voting by requiring all students to register to vote. Students who are less keen to register due to citizenship status, age or lack of interest must have another senior register in their place.
"If students want their government to work for them, the students have to show up to the polls," AP Government/Economics teacher Catherine Pincu said.
Pincu also motivates her students to vote by inserting current political issues into her daily lectures and class conversations.
"I try to stay politically neutral, but I stir the pot to get students to think," Pincu said.  "I show them political ads and constantly have them read about political issues that are relevant to them. On Tuesday, I plan to have all of my classes predict races, and vote in a mock election."
Senior Sydney Wolofsky, who turned 18 in September, plans to vote in this upcoming election. She believes that voting, even in statewide elections, is a privilege inherent to American government.
"Not voting is like handing back the right we fought for, and then we might as well not even be a democracy," Wolofsky said. "Being able to vote and have a say is the whole reason that we are a democracy."
While Wolofsky prefers to keep her political preferences private, Stone willingly explained his prediction of the election to become the Governor of California.
"[Neel] Kashkari is the new type of 'cool' Republican," Stone said. "He draws you in with his liberal social policies which conceal his typical conservative economic policies which seek to irresponsibly cut social programs and hurt the poor and middle class to help the rich."
According to an article in The Economist, Kashkari believes in fixing California's high unemployment rate of 7.4 percent by promoting job growth through easing up on business regulations, a feat that Governor Jerry Brown has failed to completely accomplish even though he brought many jobs lost in the recession back to the market.
Students looking to learn about specific platforms between Kashkari and current governor Jerry Brown can find comprehensive statements about every political issue here.
This year's ballot contains a surprisingly low amount of propositions for Californians. According to Ballotpedia, the last time the amount of suggested propositions was under 160 was in 1988. Despite the decrease, there are still new proposed laws that can affect not only high school students, but every Californian citizen.
Prop 1 authorizes $7.545 billion in bonds going towards water protection and preservation. Prop 2 requests an annual transfer of money to a state savings account, which would result in a faster paying of small debts and wider state savings in the long term. Prop 47 states that, for non-serious property and drug offenses, instead of a felony charge, an offender would be sentenced with a misdemeanor.
Sophomore Katie Hertz has become quite involved with learning about politics and the upcoming election. She is adamant on saying "yes" to Prop 47.
"I feel very strongly about providing schools with the funds they desperately need as well as reducing the important issue of prison overcrowding and overspending," Hertz said. "I understand why law enforcement officials would be against it but with Prop 47's smart filtering of simple petty crimes and more serious felonies, I don't think a rise in crime will be an issue."
There are many opportunities to vote in Beverly Hills. Physical polling places opened at 7 a.m. and close at 8 p.m. Voters will be assigned to specific polling places in their own residential areas. One can also send in an "absentee ballot" by mail, although it's recommended to send these ballots in at least a week before the election. These ballots can be requested on the California Secretary of State website.