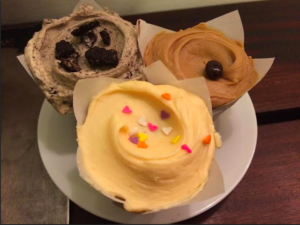 Juliette Deutsch, co-editor-in-chief
Tourists and cupcake connoisseurs travel from all over the country to get a glimpse and a taste of the famous Washington, D.C., cupcake scene. The area is home to the well-known Georgetown Cupcake, which was featured on TLC's hit reality show "DC Cupcakes". Take a walk down the tree-lined streets of Georgetown and you will find a multitude of cupcake shops that will put you quite literally into a food coma, including this spectacular find.
Baked and Wired Georgetown
1052 Thomas Jefferson St NW
Washington DC 20007
Baked and Wired is not your typical D.C., cupcake spot. Located in the heart of the Georgetown, Baked and Wired joins the ranks of the best bakeries in D.C. such as Georgetown Cupcake and Hello Cupcake. The store embodies a upscale coffee shop ambiance while keeping the names of the pastries creative and clever. Besides being famous for their mouth-watering cake cups, the bakery also serves freshly made pies and bars, as well as Stumptown and Intelligentsia coffee.
What sets Baked and Wired apart from the other D.C., cupcake stores is their personal twist on the cupcake: the cake cup. The cake cup has a more homemade approach rather than a perfectly frosted cupcake that you would find at Georgetown or even Sprinkles. The frosting is roughly spread to the tops of the cakes making it feel as though they were just frosted, which gives the cake cups a luscious texture.
Our favorite flavors were the Dirty Chai, which is a vanilla cake base that is perfectly blended with classic chai spices and topped off with a rich espresso buttercream, the perfect treat for Chai Latte lovers. In honor of fall we had to sample the Pumpkin, which is a pumpkin spice cake base topped off with a pumpkin cream cheese frosting. Finally we sampled the "I Can't Believe It's Vegan" which is a dairy-free chocolate cake option layered with Oreo vanilla cream frosting. The "Unicorns and Rainbows" is a vanilla confetti cake topped with a sweet cream cheese icing.
Stop by Baked and Wired if you find yourself strolling through Georgetown in need of a cupcake fix. Baked and Wired is heaven for all cupcake lovers and is worth the wait.
Story continues below advertisement