Lucas Harward, staff writer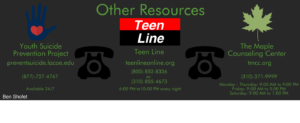 Suicide is an issue in today's world, especially among adolescents. Teenagers are in the middle of a complex developmental phase, so any stressor's effect is expanded. Suicide is not often caused by one stressor, however. There is usually a mental illness, like depression, that goes untreated and is joined by the new stressors of adolescent life.
"In recent years, more young people have died from suicide than cancer, heart disease, HIV, AIDS, birth defects and diabetes combined," Rachel Bereny, NormanAid's PPS intern, said.
There are a wide range of stressors present in a young person's life. There are the pressures in school to get good grades, graduate, make friends. The anxiety associated with this can lead to depression. There is also bullying, which can follow students on social media or in the hallways, and can cause young people to either sink into depression or push depressive kids over the edge.
"LGBTQ youth are eight times more likely to attempt suicide and six times more likely to have a higher level of depression than their peers, so it is important that we support this group of kids," Bereny said.
According to peer counselor Charlotte Marrs, risk factors for suicidal thoughts or actions include "bullying at school or on the Internet, alcohol or drug abuse, internal vulnerabilities like mental disorders or a traumatic past, impulsivity and hopelessness." Also, a loss of romance, a loss of a loved one or loss of dignity from bullying can lead to issues.
NormanAid strongly encourages students who suffer from any of these risk factors themselves or who notice them in their peers to notify any of the school's resources.
"We have professionally trained counselors and Mrs. Norman-Franks available to talk about you or someone you know dealing with suicidal thoughts or self injury. We also have suicidal hotlines and different websites that can help guide you. There is also the website Normanonymous, that you can find on the school website, where you can anonymously report any concerns you have," peer counselor Devin-Alexus Marin said.
Any student that is determined to be low-risk after undergoing treatment for high-risk behaviors by the NormanAid center can resume their normal life at school and home, but certain steps should be taken to assure that the student does not slip back into the behavioral issues.
"Just a simple strategy is dropping one of their classes that's a high trigger for them and that causes them a lot of stress, or getting them involved in some clubs to help them be more connected at school. So there's a lot of little interventions that we can put in place to help a student," Norman-Franks, the head intervention counselor, said.
Suicide prevention is the entire student body's responsibility, according to NormanAid, and all students should be aware of their peers' behaviors and the resources that are accessible in order to deal with the stressors of life.
Story continues below advertisement