Normans perform "Die-In" during nutrition
Jackson Prince, co-editor-in-chief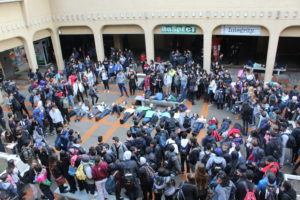 At least 15 Normans dropped to the wet cement of the second-floor patio today during nutrition as part of a "Die-In", intended to protest the decisions made regarding Eric Garner and Michael Brown, two black men who are faces of a fight against police brutality.
According to the Facebook event, this demonstration was intended to show that "Beverly High [was] more than just a bunch of kids living in a bubble, oblivious to the outside world."
While a banana was thrown at the protesting Normans, the event went without a hitch, as the students played dead for four-and-a-half minutes, representative of the four-and-a-half hours that Brown's body lie on the street, without any major disturbance. After the protesters rose, administration cleared the patio and many Normans applauded their actions.