French department hosts Cabaret
Marguerite Alberts, Staff Writer
On Thursday night, the French department held the annual Cabaret celebration in the cafeteria, complete with dancing, singing, acting and reciting poetry. As the French colored streamers shimmered in the background, twenty-two students performed over the course of the night.
The program was divided into two segments. The first half of the evening were performances, the second were award presentations. Pieces played include "La Marseillaise," Bonnie et Clyde," and "La Vie en Rose."
Some students waited their turn nervously, some waited with excitement. The students come from all levels of French.
"I feel good, but I am really afraid that I am going to forget all of these French words I have been drilling in my head all day, or mess up on the pronunciation," French 2  sophomore Brooke Teweles said.
Madame Carlson commenced the evening with a speech, calling for parents to continue to support the French department and thanking the parents, teachers, and students who helped make the evening possible.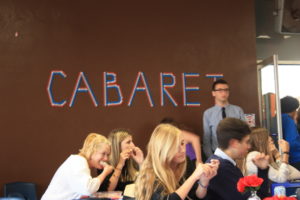 "I like the idea of the poem. It is somewhere along the lines of I am who am and no one can change that and I can do what I want," Richa  Vijayvergiya said. Vijayvergiya  recited "Un poem de Jaques Prevert" alongside A.J. Perry.
In  the middle of the first half of the Cabaret, Madrigals made a special guest appearance to sing a French song called "Le Chant des Oiseux" from the Renaissance.
"Le Chant des Oiseux is a very challenging piece that we were honored to share with the French community," junior Michelle Morochnik said.
Morochnik sang two other songs, including "La Marseillaise."
"When you perform in the Cabaret you finally see how tight knit the French community is, especially when you see adults and children singing along to popular French songs," Morochnik said.
One Madrigal member, Deven Martin, sang "Les Champs-Élysées" alongside musician James Schneider.
"It's a popular song that is loved by all ages of French people and it is simple, but enjoyable song that made me comfortable because I was the first time I was singing in French," Martin said.
The evening ended with a ceremony, where awards were given to students for performance in class.