Highlights staff places second at LAJTA Write-Off
Six members of Highlights and two students from Beginning Journalism competed at the Los Angeles Journalism Teachers' Association (LAJTA) Write-Off at Cal State Northridge on Saturday, March 7. Beverly placed second overall.
According to LAJTA president Kim Messadieh, 11 schools and over 60 students were in attendance. The seven members from Beverly who placed will move on to compete at the State Write-Off in Long Beach on March 21.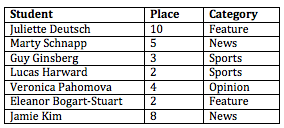 "I'm really proud of this team for taking time out of their weekend to attend this competition," adviser Gaby Herbst said. "It means a lot to represent the publication and the school. I'm really proud of everyone who showed up."

The seven finalists will compete in the same categories at the state level, while other members of both Highlights and Watchtower will compete in non-qualifying categories, such as photography and critical review, on March 21 at Rancho Dominguez Prep.