Sadie Hersh, photo editor
For kids who might not know where to sit at lunch, or are overwhelmed with all the possible places to sit, TUCH is a club with the purpose to eliminate this problem. Teens Unite for Cultural Harmony meets at lunch on special occasions, like Valentine's Day or St. Patrick's Day, to bring students together.
The club's mission is to give kids with social or academic difficulties a comfortable place to be themselves in a room filled with life and positive energy, according to president and founder Lauren Moghavem.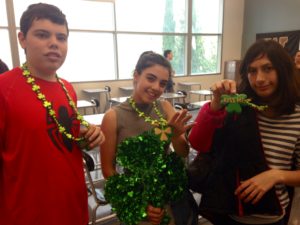 "I started TUCH because when I came to the school as a sophomore, I didn't really know where to go during lunch and I saw that there were so many different groups," she said. "I was thinking, 'Maybe I can make a club where there is a safe environment for students to go and enjoy and meet new people.'"
At their St. Patrick's Day meeting, members of the club were greeted with smiles and hugs.  The group sat in a circle of desks so everyone could see each other and connect. The leaders of the TUCH set up a scavenger hunt for the members, where they had to find a pot of gold filled with fun prizes.The members of the club were eager and excited to be there.
"I joined it because I thought it would be a great club to interact with kids with special needs,"  vice president Shany Madan said.  "Since my brother has special needs, I know how to communicate with the other kids."
The cheerful spirit between the leaders and the members of the club was apparent while everyone socialized over cookies and conversation.
"The kids always tell me how much they love meeting, which makes the leaders love to do it," Moghavem said.
Story continues below advertisement