Celine Rezvani, staff writer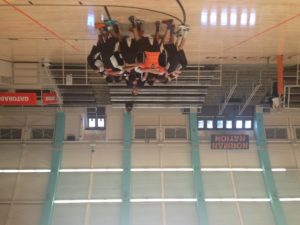 Boys varsity volleyball was victorious over Lawndale on Thursday, March 19, clinching the victory after the first three games.
The scores after the first three games were 25-5, 25-15 and 25-9.
Though the Beverly team expected to win, senior Ibraaheem Agaba is proud of his team's ability to show their dominance.
"Even though it's a team that's not much of competition to us, it's always nice to see where we stand," Agaba said. "It's reassuring to know that we can get wins when necessary."
Senior Navid Simanian feels his teams biggest feat was their ability to play at a persistently elevated level.
"Our best aspect was our consistency with keeping leads," Simanian said. "We didn't play down to the other team's level."
Coach Sarah McCabe stressed the importance of serves and passes in the three-game victory over Lawndale.
"Our serve receive and defensive passes were very important because they allowed us to successfully execute plays," McCabe said.
Story continues below advertisement