Broadcast news takes third place at Skills USA
Juliette Deutsch, co-editor-in-chief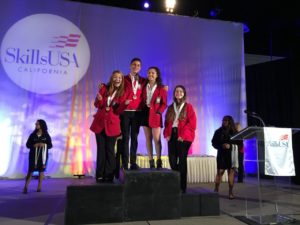 This past weekend, 13 CTE students and faculty attended the Skills USA competition in San Diego and competed against 1900 students from across California.
Beverly students competed in the categories of Digital Cinema, Broadcast Journalism and Culinary Arts.
Senior Ashley Griffin, juniors Molly Hersh, Eric Ross and Rachel Gilbert all received third place in the state for Broadcast News.
ROP director Cindy Dubin believes that the Skills USA experience is a remarkable experience.
"I was truly inspired by our teachers and what incredible role models they were for our students throughout the experience, they were so professional, respectful, inclusive, and engaged. Our school community is so fortunate to have them.  I saw first-hand how they truly expect these learning opportunities to be top-notch, and yet, foster a "family-oriented" 'can-do' environment for the students along the way. Really remarkable," Dubin Said.
In the 2016 competition, students will be able to compete in the categories of photography, architecture, advertising design, computer programming, robotics, animation and page layout.