Damien Rice Live at the Greek Review: A lonely thunder
Guy Ginsberg sports editor
https://vimeo.com/126003337
Irish folk-indie singer Damien Rice released his third studio album, My Favorite Faded Fantasy, in 2014, with various musical experience. He toured with '90's rock band Juniper, before settling down for a solo career with the albums "O" in 2002 and "9" in 2006.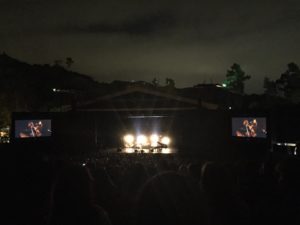 It's Fantasy which brought Rice to The Greek on Friday, April 24. Strumming ballads from his new record as well as channeling his old hits, Rice never failed to stun. But it wasn't only the songs that kept the show alive.
Rice, clad in a grey tee and skinny jeans, spent most of the show alone on stage basking in a single spotlight. Pure and isolated, all he had to shield himself from the chilling cold of night was his 6-string and a microphone.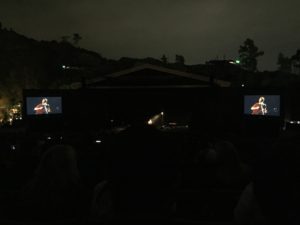 There was something captivating about watching 41-year-old Rice stand motionless, like the unsuspecting shy student forced to read in front of class. But, it wasn't awkward, lonely or boring- you couldn't take your eyes off it.

It was hilarious watching him complain (uncensored) about the cold weather, tell crude stories about sexual miscues from his childhood and sip wine while interacting with the ever-so-appreciative of him audience.
"You're hot!" A fan screamed.
"No, I'm actually f—–g cold!" Rice replied. The crowd erupted in laughter and applause, but Rice was already gone- on to the next song and story.
It was beautiful to see him divulge head first into a blasting riff showered with light flickers and explosions, only to abruptly take it all back down from full force to a light note, effectively erasing from our minds that the last ten seconds ever happened- only to be reminded of it by his smooth soulfulness, a complete and stark contrast.
https://vimeo.com/126003336
It was compelling to watch Rice orchestrate the audience to harmonize with him while strumming away to "Volcano", splitting the crowd into thirds and asking each to sing a piece of the song that brought us all together as a whole, like pieces of a puzzle added that we didn't even know were missing.
https://vimeo.com/126003338
Arguably the most memorable part of the show was when Rice delivered a soulful ballad to close off the show, and a belligerent fan began screaming back the lyrics, like a drunken echo, hilariously contrasting Rice's finely tuned vocals.
Rice, being the entertainer he is, invited the fan on stage to join him.
In a turn of events that could only be described as epic, the two went back and forth while everyone in the audience laughed and clapped. It was remarkable to watch, and amazing to be a part of.
Damien Rice live at The Greek: 8/10