Treats to try this Spring
Juliette Deutsch, co-editor-in-chief
Toast at Sqirl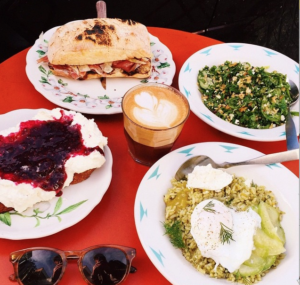 720 N. Virgil Ave., Los Angeles
If you enjoy chaos and communal tables as much as you do crispy brioche toast smeared with almond-hazelnut butter or fresh quince paste, then Sqirl may be your new favorite place to brunch in the city. Plus, any place that serves G&B coffee is a good option to begin with. Created and run by notorious jamstress Jessica Koslow, also behind Dimes NYC, Sqirl elevates toast to new level. This thickly sliced brioche toast spread with a mild chutney style jam over a layer of ricotta is spread corner to corner and makes for the perfect bite. In a city full of specialty restaurants, Koslow provides a minimalistic approach to cooking. It doesn't get  more basic than toast, or much better than the toast at Sqirl.
Instagram: @sqirlla
OddFellows Ice Cream
The East Village outpost of this popular Williamsburg creamery serves up a rotating roster of ice creams that are made fresh daily. After gaining extreme popularity amongst New Yorkers, OddFellows NYC has stood the test of time against longtime popular creameries such as Emack & Bolios and the Queens' original Van Leeuwen. This popular NYC treat will be available at your local LA market starting in June 2015. Pastry chef and Brooklyn native Sam Mason has conjured up some noteworthy flavor combinations such as chorizo caramel swirl and spiced pear. Mason's confections are truly exceptional and will become an instant classic among ice cream connoisseurs in LA. Upon visiting the East Village store, located between Bowery and 2nd Ave, I highly recommend getting your hands on the buttermilk honey or sprinkles flavor when it becomes available in LA. If you're  not in the mood for something as heavy, try the matcha sorbet.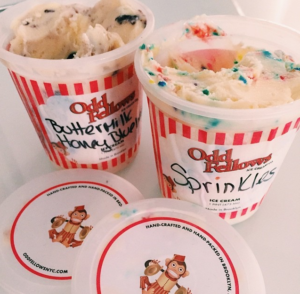 Instagram: @oddfellowsnyc
Freeze at Pressed Juicery
Sold exclusively at West Hollywood, Brentwood and Beverly Hills  locations.
Just as the taste of liquefied greens and fruits was becoming trendy and tolerable in LA, Pressed Juicery's Heidi Gores and Hayden Slater have hit us with their newest trendy item. They are calling it "Freeze", a soft serve treat that is created from the juice of fruits and vegetables and is vegan and gluten-free. Freeze effectively satisfies spring frozen cravings but without the guilt. Sweet is not the first thing that comes to mind when tasting Freeze. Freeze comes in six flavors: greens, citrus, fruit, roots, vanilla and chocolate almond, which are all inspired by drinks sold at Pressed. Toppings offered are freshly shaved coconut, homemade granola and fresh fruit. Although Freeze is a type of soft-serve, it is not sweet like soft-serve at the Bigg Chill or typical frozen yogurt. Each cup is made with juice and almond milk products giving it a surprisingly but delicious frozen and tart taste, accompanied by a whipped consistency.
Instagram: @pressedjuicery