Slideshow: Pantene Beautiful Lengths hair donations
Karen Shilyan, business manager 




Ben Shofet, graphics editor
Exactly 30 lady Normans donated a minimum of eight inches of hair at Service Learning's annual hair donation event at lunch on April 30.
In July 2006, the Pantene Beautiful Lengths program was founded by the American Cancer Society along with Pantene. According to their website, the Pantene Beautiful Lengths program has donated over 24,000 wigs so far.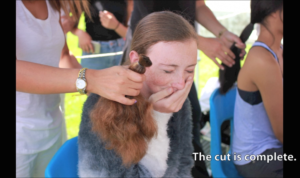 Science teacher Lisa Dickens was one of the many who donated her ponytail. Dickens' motivation for donating her hair is influenced by her father who lost his battle to cancer 20 years ago.
"Although he has a crew cut and didn't care about wigs…this is a small way for me to honor his memory,"   she said.
This is Dickens third time donating her hair.
"He was my hero and usually thinking about him makes me smile, but sometimes I really miss him. I didn't cry about giving up my hair, I just wish he was still here," Dickens said.