Nirav Desai, cub writer
Exhausted teachers enter final exams into gradebooks, anxious underclassmen endlessly refresh Jupiter Ed and aspiring college-bound seniors frame acceptance letters onto walls across Beverly Hills as the school year culminates in the annual teeter-totter between failure and success. Success, an aspect of life that garners particular significance at Beverly amid an era of increasingly competitive college admissions, is defined by Merriam-Webster as the fact of getting or achieving wealth, respect, or fame. Personal experiences in high school lead students to form their own definitions of the prestigious notion of success, just as these ideals, in turn, shape students' lives.


Beverly, a Blue Ribbon and California Distinguished School, boasted an API of 865 in 2013, with 95 percent of the class of 2014 going directly on to higher education. In accordance with this tradition of accomplishment, the torch of academic achievement is expected to be carried forward by subsequent graduating classes.
Alex Alcalde, a member of the class of 2016, has experienced a shift in his own perception of success since he began high school.
"My definition of success has changed. Freshman year I thought being successful would be going to college and getting a degree or just becoming really rich, but it's more than that now," Alcalde said.
Aaron Shahmaram, a fellow junior, shares a similar tale of varying attitudes toward success.
"My definition of success has changed a lot. Before I was aiming to get into a good college but now I just want to be able to prepare myself for the real world," Shahmaram said.
These modifications of the definition of success may stem from the consequences of academic performance, and the resulting reprioritization of goals.
"In some ways I have been successful at Beverly. My grades on one hand have been poor, but on the other hand I've made lots of friends that I think I can look forward to knowing in the future. What school tells you about success doesn't necessarily mean that would be what's best for you," Alcalde said. "Just truly think about what success means to you and keep with that while also keeping an open mind."
While Alcalde was forced to refocus his goals in high school in order to build lasting relationships with his peers, Shahmaram reset his targets in order to lessen his personal emphasis on college while still gaining knowledge of the professional world.
"I think I've been fairly successful in my goal to prepare myself for the next step of my life through the habits and skills I have built," Shahmaram said.
Shahmaram has chosen to supplement his education by attending classes at Santa Monica College, a common path for Beverly students hoping to gain an edge over their future academic and professional adversaries. This proactive approach ties in with Shahmaram's education-oriented definition of success.
"Success means learning something new everyday and preparing for college," Shahmaram said.
In contrast to Shahmaram's knowledge-based outlook, Alcalde places more of an emphasis on the pursuit of satisfaction with his definition of success.
"Success depends on the person. I think [for] me to be successful is to be happy and with [my] life goal achieved," Alcalde said.
Currently, Alcalde plans on achieving his life goal via culinary school in Peru. In doing so, he would follow a precedent carried on by the class of 2014, which, according to Beverly's school profile, saw its members pursue success in higher education in Canada, Chile, France, Iceland, India, Israel, Japan, the Philippines, South Korea and the United Kingdom.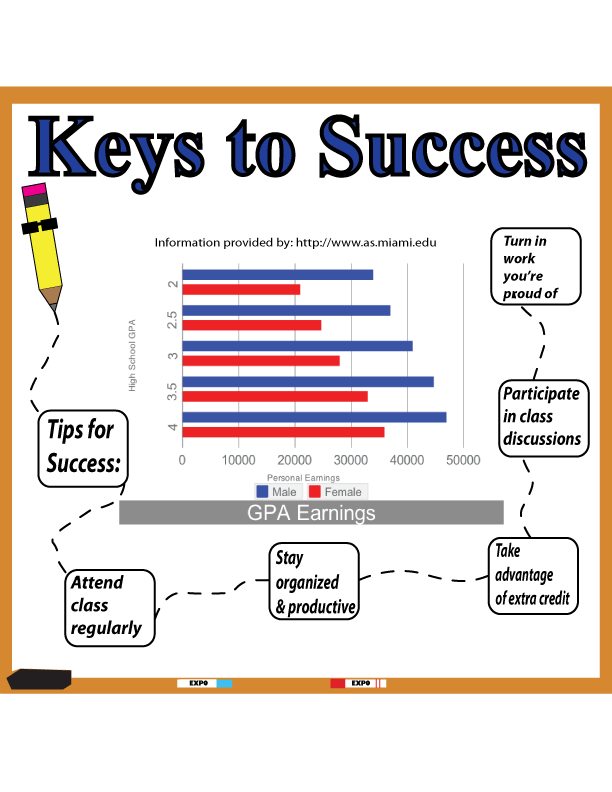 Jacob Rabbanian, cub writer
English teacher Christina Bahk concurred with Alcalde's philosophy, stating that "Success means total happiness and achieving what you want to achieve."
A survey asking students at Beverly to explain how they had become successful produced a large number of grade-centric responses, indicating that Shahmaram's academic-based strategy for success is a predominant viewpoint among students.
Answers taking pride in a job well done academically were commonplace. One respondent divulged that their definition of being successful in high school is "getting mostly A's and B's and being [able] to make use of the opportunities given to me to learn and improve myself in different ways," while another used a similar benchmark and noted that "I slacked off in freshman year, but I started doing better and better, and by 11th grade I just really focused and I've been getting all A's since."
However, enough respondents remarked on their respective achievements in their social lives to indicate that Alcalde and Bahk's satisfaction-based perspective on success is also a mainstream belief. One replier celebrated, "Socially, I feel like I am successful because I enjoyed myself and I gained some really good friends and lost the seasonal ones, so I feel as if I'm going out strong," while another stated that they had "obtained a boyfriend, obtained many people who look fondly upon me, stayed away from the drama, [and didn't] take drugs."


Story continues below advertisement