Beverly football shows there is room for improvement in loss to Oak Park
Guy Ginsberg co-editor-in-chief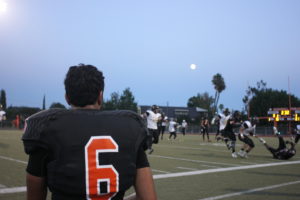 The varsity football team was defeated 40-6 by the Oak Park Eagles in their first game of the season on Friday, August 28 at home.
The Normans looked outclassed straight off the bat, allowing two touchdowns in the first quarter, falling to an early deficit of 14-0.
"We need to work on not getting avoidable penalties and having more guys prepared to go in [the game] if someone goes down [with an injury]," linebacker Dylan Rutigliano said.
Beverly's first touchdown of the game came at the feet of running back Rashad Ysaguirre. However, Ysaguirre was overall unimpressed with his performance.
"I felt like I was holding back and waiting for my blocks too much. During that time I think I could have tried harder. I don't think I was mentally prepared for the game," Ysaguirre said.
Rutigliano was the main impact player on defense for Beverly, recovering two fumbles and intercepting a pass in the first quarter.
"The series before [the interception] I missed a tackle that led to a touchdown so I knew I owed it to my teammates to make a big play the next series," Rutigliano said. "I wish I would have scored off of [the interception] but I ran out of gas. Thankfully, Rashad ran it in a couple plays later."
Varsity football's next game is an away matchup with Templeton on Saturday, September 5.