Tea & Talk brings current events to forefront
Jason Harward, staff writer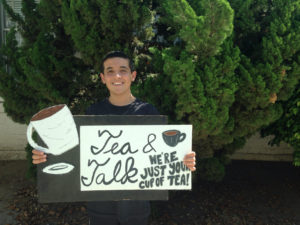 During the school-wide event that is club day, clubs lined up and lured students to join their group. One of these, which for most of the event had a line in front of it, was Tea & Talk, a new club founded by sophomores Daniel Kohanbash and Jonathan Tansey.
The club hopes to draw members by having fun while also enriching people's learning in history class. The first step to active membership in the club is to answer a simple poll: What kind of tea do you guys like?
"We hope for our members to have a great time while learning about the world around them," Tansey, the club's vice president, said.
According to an e-mail sent by Kohanbash to Tea & Talk's members, the first-year club had a large turnout of about 100 sign-ups. The club plans to communicate with these members using an Instagram account: @bhhsteaandtalk.
"I'm excited. I was a bit overwhelmed at first, but I'm excited for the experience to start," said club president Kohanbash said..
With a simple message and a large group of students in the club, Tea & Talk is a new, energetic club that hopes to raise awareness about important events.
"Often times kids don't know what is going on in the world around them, and what better way to do it than with a cup of tea," said Kohanbash.
Tea & Talk's first meeting will be held in Mrs. Alice Roh's Room 208 on Wednesday, Sept. 2.
This article is a part of a series on new clubs. Find other new clubs here and here.