Liquid nitrogen experimentation at Creamistry
Keith Stone staff writer
Creamistry
253 S. Beverly Drive
Beverly Hills, CA 90212
On a blazing hot day, there is nothing more refreshing than the freezing explosion of flavor that ice cream creates. At Creamistry, if you know what to order, every creamy bite will leave you wanting more until you're left scraping the bottom of an empty dish.
The first key to success is staying away from the shakes. Although they may look appealing from afar, these imperfect mixtures of solid and liquid ice creams will not satisfy your sugar craving. Instead, they'll fill your empty stomach with a soupy mess of ingredients that isn't firm enough to be ice cream, or liquid enough to be a shake. If that's the only type of ice cream you like, go somewhere else, because the liquid nitrogen process at Creamistry does not leave you with the succulent treat you're looking for.
Now that you know what not to get, let me tell you what you will love about this place. The instant you walk in, you're met with the cool breeze of air conditioning and friendly cries of "Welcome to Creamistry!" From there, it only gets better. Above the counter are pictures of multiple delicious looking creations, all of which can be ready in minutes. These specialty amalgamations chosen by liquid nitrogen professional are what you want to get. For example, if you're a big fan of chocolate, try the Chocolate CombustionTM. With chocolate ice cream, brownie bites, chocolate chips and a fudge drizzle, this delicacy is just one of a few recommended options. With fantastic combinations of ice cream with multiple different toppings, you can sit back, relax and enjoy while a concoction of your choosing is being created. After a few seconds, icey white smoke will begin to billow out from the ice cream machines.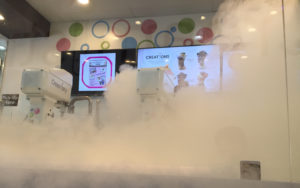 A few seconds after that, you'll have a mouthwatering fusion of solid toppings like Oreos and delectable velvety ice cream.
The prices may be fairly expensive, with one scoop costing $5.50, two scoops costing $8.50 and shakes costing $7.50 but, it's worth it to put your money where your mouth is.