'A Bite with Barry' brings eating, entertainment to new level
Eleanor Bogart-Stuart staff writer
Max Yera staff writer
One 16-year-old teenager. A seemingly ridiculous amount of food. All in 10 minutes.
This is more or less the premise of junior Bennett Gershwin's new KBEV show "A Bite With Barry".
The lightbulb appeared in Gershwin's head last month when he and and fellow junior Barry Gibbons were in their KBEV class together.
"KBEV has a chalkboard and for a while it had random words on it. The words 'Barry' and 'eating' were both on random places on the board. I just suddenly realized what a perfect combination the two were," Gershwin said.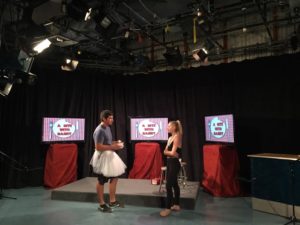 The relationship between juniors Bennett Gershwin and Barry Gibbons started way back in freshman year. They first met through mutual friends Joey Yaris and Owen Lloyd, as Yaris and Gibbons often visited Lloyd's house on weekends for a weekly game of basketball.
"During freshman and sophomore years of high school, I used to go every Saturday to play basketball at Owen's. Bennett was usually there and we just became great friends I guess," Gibbons said.
Considering their close relationship, it was a no-brainer for Gibbons to do a show with Gershwin.
"I agreed to doing the show because [Bennett Gershwin] said it would be a fun experience for the both of us, which it has been."
Nevertheless, despite being a fun experience, the show was first deemed too boring by Gershwin himself.
"[In the first episode], I gave [Barry] some normal food and just interviewed him. He didn't end up finishing and I decided it was too boring. It was a funny concept, but it needed to be reworked," Gershwin said.
The concept was reworked and in only the second episode, Gershwin managed to bring a new entertainment factor to the idea of Barry Gibbons' finishing a meal.
"[In the second episode], I got visually funnier food for him to eat. I gave [Barry] a little more time and scrapped the interview idea. It's basically a strictly visual comedy show now. I had Matisse Love teach him ballet while [Barry] ate whipped cream out of a box…much better in my opinion," Gershwin said.
"A Bite with Barry" airs once every month on KBEV, but if you miss it, you can find it on the KBEV Youtube channel.