Swim Gym pool water test results and student opinions
This post was updated on October 29 to reflect administration's efforts to improve the pool's condition.

Swim Gym pool found not in standard range for 4 out of 10 areas
Jamie Kim staff writer
Nirav Desai staff writer
With a few cranks and turns of a key, the hardwood floor,of the Swim Gym, renowned for its unique design as a multi-sport facility used for basketball, volleyball and wrestling, pulls away to reveal a seven-lane swimming pool underneath. Though the 76-year-old gymnasium is tentatively scheduled for restoration when construction begins, there is a question of whether the 76-year-old pool's conditions are currently suitable for students.
These concerns come despite the fact that school administration puts in multiple efforts to maintain the pool. The pool is cleansed through a monthly process consisting of hair cleaning and lint straining, checking of pool safety functions, chemical controls and filtration systems, and adjusting of the automatic pool chemical controller as mandated by the Los Angeles County Department of Health.
This past September, Principal David Jackson and Maintenance and Operations manager Gino Garcia employed Sea Clear Pools Inc. to conduct professional tests on the Swim Gym pool. The tests showed a generally well-maintained pool water chemistry. However, the pool was diagnosed with high phosphate levels and a lack of air handling, the regulating and circulating of air.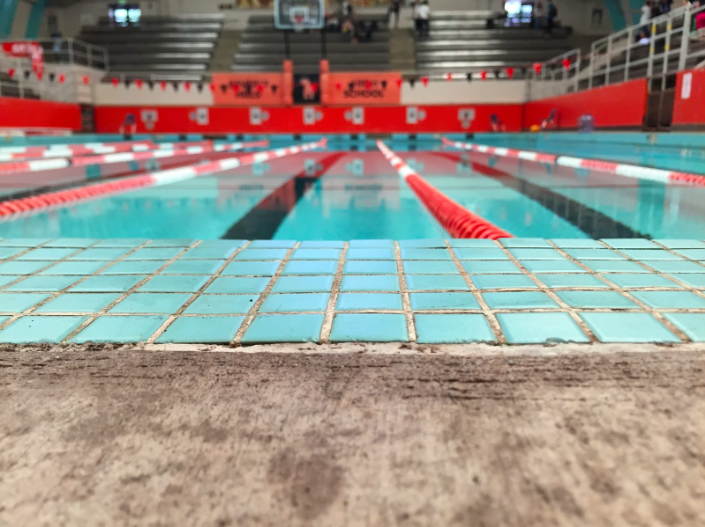 Jackson and Garcia closed the pool for two days after Sea Clear Pools Inc. recommended the measure in order to lower the phosphate level and implement an air exchange system and a medium pressure UV system that would "both rid the pool of combined chlorine and kill germs very effectively," as the company's Bill Szieff addressed in an email.
Despite these extensive efforts, worries about the pool's sanitation continue. A concerned Beverly family collected a sample of the water from the pool and sent it in to be professionally tested. The results of the process indicated that Beverly's pool did not fall into the "normal" ranges for three out of 10 tests.  
"I am not surprised in the slightest. It is obvious to anyone in an aquatic sport that our pool is not up to par," water polo player and swimmer Hannah Knecht said.
One of the tests focused on the amount of total available chlorine in the water. The acceptable range is within a 0.2 difference, yet Beverly's pool yielded a 4.0. This condition was marked as "too high" according to the data analysis.  
"[The pool] is outdated and dirty. There are puddles of dirty water everywhere, and the water in the pool is too chlorinated. It feels weird, and you can't open your eyes," sophomore Noah Isaac, who is on the water polo and swim teams, said.
Another test in which the pool failed to meet standard condition was phosphate level in parts per billion (ppb). The desirable condition should be below 100 ppb, yet our pool's level of phosphates is 500 ppb. Having too much phosphate in a swimming pool, especially indoors, leads to the degradation of water quality and the growth of slime deposits.
"I've been through colds, coughs, congestion and even ear infections. I am completely sure that this was because of the pool water," an anonymous source, who was on the water polo and swim teams, said.
The pool also has low levels of total alkalinity prevents rapid pH changes in the water. In addition to students, many residents of Beverly Hills and the surrounding areas use the pool in water aerobics classes and city-run aquatic programs.
"A lot of people swim in the pool because there are P.E., sports teams, and adults and children that use it at the end of the day as a community pool. They need to make a change because it's not suitable for people to swim in it. Compared to other high school and college pools, the Beverly Hills High School pool is too warm and very dirty," the anonymous source said.
On the other hand, some students warmly recall their experiences at the pool and feel that the current state is adequate enough in which to swim.
"The Swim Gym pool, to me at least, is one of my favorite public pools in Los Angeles. I like how it's an indoor public pool unlike in most places where it's an outdoor public pool. I like the size and the temperature of the water, and it's a swimming pool that can turn into a basketball court. I mean how cool is that?" senior Alex Alcalde, who frequently swam in the pool during his freshman P.E. course, said.
Still, the Swim Gym has been a fixture on Beverly's campus since the New Deal, and as a result, it will likely be ingrained into the fabric of the community for years to come, as evidenced by ongoing discussions regarding its future capabilities on campus.